The Trump administration is not the only entity that has been missing in inaction in Puerto Rico in the wake of the island-wide destruction caused by back-to-back direct hits from two major hurricanes. The island's many "corporate citizens" have thus far been looking to their own interests during this crisis.
While communities across the island have rallied, rich and poor alike, to help one another survive, the major companies scattered across the island, aside from donating funds to relief efforts, or having their parent corporations do so, have largely focused on themselves. This includes firms like Medtronic, Univision, Destilería Serrallés (makers of Don Q rum), DowDuPont, AstraZeneca, Merck, Industrias Vassallo, Puerto Rico Iron Works, Walmart, and banking firms like Triple-S Management and First BanCorp. Most if not all of those have disaster plans in place that include generators and satellite communications capability to stay in touch with suppliers, customers and branch locations across the island and headquarters in the mainland U.S. Overwhelmingly, these companies are focusing on getting back into production and locating and helping their own employees.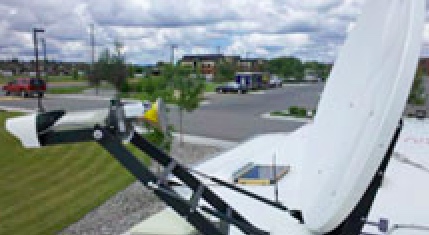 A typical satellite dish mounted on a Puerto Rican business site's roof provides cell phone and internet capability, but not for desperate locals seeking to contact anxious relatives
That is all understandable. What may be less understandable is that these companies, which generally have telecommunications capability and access to the internet at a time when the vast majority of Puerto Ricans do not, are not advertising that fact to local residents of the regions around their facilities.
One of the great torments and preoccupation for Puerto Ricans, both on the island and in the mainland U.S., is the near-total inability to get news from relatives and friends in the blacked-out parts of the island. At this point, that's about 97 percent of Puerto Rico. Those people can't call out to say that they're OK, or that they need help. Furthermore, in most cases they can't reach San Juan or other major towns and cities by road; downed trees and washouts have made most routes impassable on the mountainous 110-mile by 40-mile island….
For the rest of this article, which was written by DAVE LINDORFF for Salon magazine, please go to Salon.com