I am coming –
Made of stardust
And the dust that escapes from vacuum-cleaner bags.
I am blowing.
I am rushed and roaring
Like a waterfall
Coming straight at you,
Pushing ghosts out of my way. . .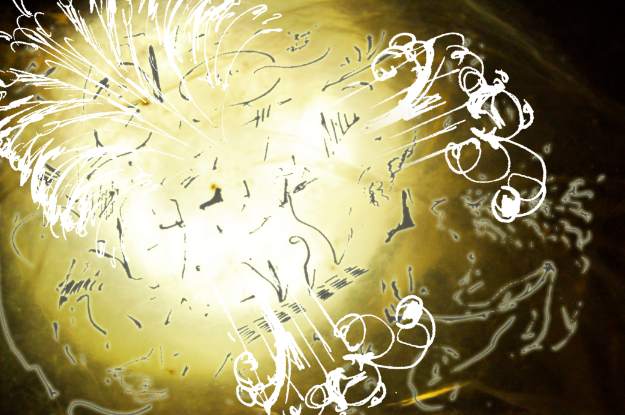 Illustration by Evan James Lindorff-Ellery
I am spitting out the taste of middle-age,
Hacking out the Nutrasweet of misspent youth.
A little manic,
A little frantic,
A little righteous. . .
I have been lied to,
Cheated and abused
But none of that has molded me.
I am coming for myself,
For you,
For my mother and father.
I am like a thing of light
Stepping out of a chainmail
Of dead cells
And scales the color of fog.
I am like a mega-fauna
Crashing out of the wilderness.
Blazing my own way,
Snapping branches as I come.
I am American
And I should be dead,
Extinct and broken. . .
Oh yes, forgotten too.
I have been drafted and flogged
Pissed on and denied,
Forced to commit atrocities. . .
My feet are bare and bleeding.
I walk gingerly
For the sacred ground is bruised
And bleeding too!
Trembling I am coming.
Awed by my own existence,
I tell you, I have been summoned!
I have no choice
But still I am glad.
I am coming fast!
I am coming strong and loud.
Just know this –
I am not turning around.
I am not going away.
Coming is my vision.
Announce me.
Give me work.
Make me welcome.
— Gary Lindorff
GARY LINDORFF, TCBH's resident poet, is an artist, musician, writer and Transformational Counselor specializing in dreamwork and shamanic techniques, living in rural VT with his wife and two cats. He has a website at Bigdreamsweb.com and can be reached at: maleotter@gmail.com
Gary's son EVAN JAMES LINDORFF-ELLERY is a sound and visual artist living in Portland, Oregon. He co-owns and co-curates a boutique cassette label releasing limited editions of sound art and experimental music. The label's website can be found here, and his personal blog can be found here. Evan may be reached at thecoloroflight@hotmail.com