For a quick glimpse of life within a "Trump Nation" look no further than New Jersey, the east coast state led by Trump booster Gov. Chris Christie, the man who heads the transition team assembling top personnel for the administration of a possible President Donald Trump.
A snapshot of Christie's ruinous reign as governor since taking the helm of the Garden State in 2010 is found in the headline of an editorial published in mid-September by New Jersey's largest daily newspaper, the Newark Star Ledger:
"Chris Christie's state is an economic cripple."
Christie has practiced the economic policies that Trump has promised to pursue: massive tax cuts for corporations plus tax breaks for wealthy individuals.
"What tax cuts have surely given us is a big revenue hole – with no real economic boost to show for it," that Star Ledger editorial noted.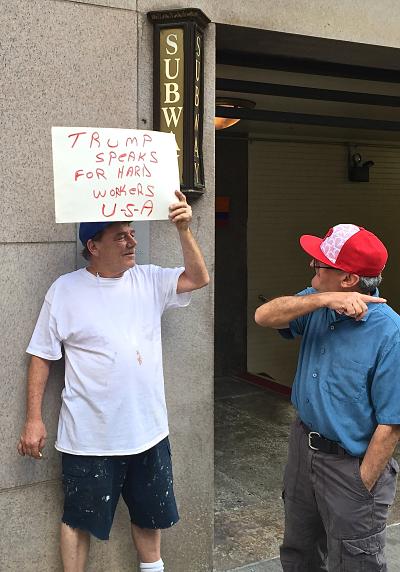 Trump will improve their lot? Not! LBW Photo
Christie push $2-billion in business tax reductions through the Democrat-dominated legislature and opposed modest tax increases on the wealthy.
"In short, the magical thinking that Gov. Chris Christie has relied on to steer the economy is simply not working. Like many Republicans, he clings to the notion that lower taxes are the key to economic growth, despite all the hard evidence to the contrary," that editorial declared.
Like Trump's current campaign trail promises for America, gubernatorial candidate Christie pledged to get New Jersey's fiscal house in order – a pledge he failed to deliver.
However, Christie did deliver an array of 'benefits' to wealthy corporations and individuals, benefits that certainly aggravated New Jersey's fiscal disarray.
Consider what happened with ExxonMobil, one of the world's richest corporations. New Jersey authorities calculated that massive pollution by the ExxonMobil Corporation required payment of $8.9-billion.
But the Christie Administration offered ExxonMobil a sweetheart settlement of just $225-million. After shortchanging his state's coffers, Christie did not devote that entire settlement to environmental cleanup of the 1,500 impacted acres that a New York Times editorial termed a "toxic wasteland."
And then there's Donald Trump.
Trump's casino operations in Atlantic City had amassed an unpaid state tax bill of nearly $30-million. Yet Christie, a year after he become governor, settled that Trump casino overdue bill for a mere $5-million.
During Christie's tenure New Jersey has achieved a number of dubious distinctions beyond increases in income inequality and poverty.
New Jersey now leads the nation in the number of millennials living with their parents due to Jersey's high cost of living and low wages.
The credit rating for the State of New Jersey has sustained nine downgrades during Christie's tenure. Trump, who uses bankruptcy as a standard business practice, has said a default on the federal government's debt may not be bad, ignoring the catastrophic impact such an event would have on economies around the world.
New Jersey has the highest real estate taxes in the nation, a reason often cited for why more people are moving out of New Jersey than moving into the state.
The cost of gasoline in New Jersey, once the second lowest in America, is now the seventh highest in the nation. This dramatic shift is due to a recent gas tax increase needed to replenish the depleted fund used by the state to repair roads and bridges — a fund that was drained as Christie pushed a no-compromise my-way-or-the-highway posture with the state's Democratically controlled legislature.
Tough-talking Christie and Trump share disturbing similarities like placing their personal ambitions over public service.
For example, Christie, during his unsuccessful campaigning in 2015 to win the Republican presidential nomination, spent an astounding 261 days away from his gubernatorial office as his state sank ever deeper into economic morass. The prior year when Christie served as the head of the Republican Governors Association –- an effort to burnish his presidential candidacy -– he was away from New Jersey 148 days.
Christie's continued role as head of Trump's transition team is now in question following recent convictions in the trial for the 2013 Bridgegate scandal.
A federal jury in New Jersey last week returned guilty verdicts against Christie's former deputy chief of staff and his top appointee to the commission that operates the George Washington Bridge between NJ and New York City.
During that "Bridgegate" trial both the defense and prosecution blasted Christie's involvement in the Bridge lane closures, which were found to have been a form of political punishment for the Democratic mayor of Ft. Lee, who had not endorsed Christie in his last gubernatorial race — a persistent accusation that Christie has consistently denied.
"Christie's inner circle acted worse than the TV mobsters on The Sopranos," stated a November 4th editorial in the Philadelphia Inquirer. "Testimony suggested that the leader of the thug wannabes bred an environment of fear and intimidation."
The George Washington Bridge lane closure scandal is about Christie apparently having a Nixon;like "Enemies List". Trump, reportedly, has also complied a Nixon-like Enemies List of his own, composed of persons who have derided his presidential candidacy.
Recent campaign ads for Donald Trump feature his proclamation to "take back this country."
Chris Christie's 2009 campaign for New Jersey's governor rallied voters with calls for "taking our state back."
Recent opinion polls record substantial dissatisfaction with the state of the state of New Jersey under Christie.
Christie reached his lowest approval ratings in mid-October, sinking to just 21% approval, down from 26% in June. That sinking approval rating includes 52% of the Republicans polled who now hold negative assessments of Chris Christie.