Murder is murder, and terror is terror, you might think. But when terror is committed against an American citizen by the state of Israel the response from the US government is not protest, and it is surely not to demand justice, much less seek vengeance. It is silence.
In 1985, when terrorists from the Palestine Liberation Front, in an act of piracy on the high seas in the Mediterranean, took control of the Achille Lauro, an Italian cruise ship, and executed the Jewish American Leon Klinghoffer, shooting him in the forehead and then pushing the wheelchair-bound 69-year-old overboard, the US responded with dramatic action. To rescue the passengers, Italian negotiators had worked out a deal granting safe passage to Tunisia to the pirates, in return for the freeing of the ship and its other passengers. But President Ronald Reagan dispatched a US fighter plane to intercept the plane carrying the PLF pirates to safety, and forced it to land at a US airbase in Italy, where they were turned over to Italian authorities for prosecution.
Compare this to another more recent act of piracy, the violent assault and high-seas boarding of the Turkish cruise ship Mavi Marmara and a flotilla of smaller ships bound from Turkey to Gaza by troops from the Israeli Defense Force, who commandeered the vessels, killing eight Turkish and one young Turkish-American passenger. The US failed to condemn this latter act of piracy, and as for the American who was slain, 19-year old Furkan Dogan, there was not a word of protest.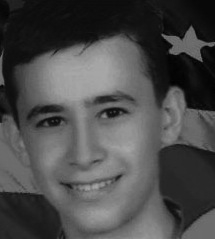 Furkan Dogan, executed by Israeli soldiers in the raid on the Mavi Marmara, ignored by Washington and the US media