Some 35 years ago, when I was just an aspiring journalist settling into life In Los Angeles, a venerable alternative journal, the Free Press, died. This paper, which had chronicled the Beat Era, the Civil Rights Movement, and the rise of the '60s Counter Culture, much like the Village Voice in New York City on the opposite coast, didn't stop publishing. Rather, the new owner decided that the real money was in massage parlor ads and ads for sex services, and so he eliminated the journalism in favor of pornography.
At the time, I had been freelancing, doing pieces for the "Freep's" managing editor, Tom Thompson, a hulking former linebacker and veteran TV news reporter with a growl for a voice who ate too much, smoked too much and had an unerring sense for what was really important and needed covering.
When the Freep ceased to be a newspaper, Tom quit. But instead of going off to find another job in some forsaken corner of the corporate media, he did something unusual. He called a meeting at his house of the journalists he had been working with, myself included. Sitting around his living room, a dozen or so of us talked about the crazy idea of starting a new alternative newspaper for Los Angeles. We wanted a weekly. We wanted it to be something people paid for, even if it was just a quarter. And we wanted it to be ours, not some publisher's property, in which we were just the cogs.
We found a backer, a liberal Democratic activist named Jim Horowitz, who ran a small plumbing supply wholesale operation. Jim, incredibly and generously, if with understandable skepticism, agreed to our terms: 50% ownership in return for his fronting of $50,000, and 50% ownership for those of us who agreed to work for $125 a week to put out the paper, which we decided to call the Los Angeles Vanguard.
This coming week, two of the original journalists from that venture, myself and Ron Ridenour, will gather together with the members of the journalists' collective that runs this online paper–myself, John Grant and Charles M. Young (Linn Washington will be out of town)–to celebrate and critique what was done in Los Angeles half a lifetime ago, and and what we have done with ThisCantBeHappening! over the 14 months of this new publication's existence. We will be hosting a forum titled "The LA Vanguard, ThisCantBeHappening! and the Future of Alternative Journalism" this coming Thursday, August 18, at 7 pm at Larry Robin's Moonstone Arts Center, 110A S. 13th Street in Philadelphia. (Everyone is welcome, and refreshments will be available.)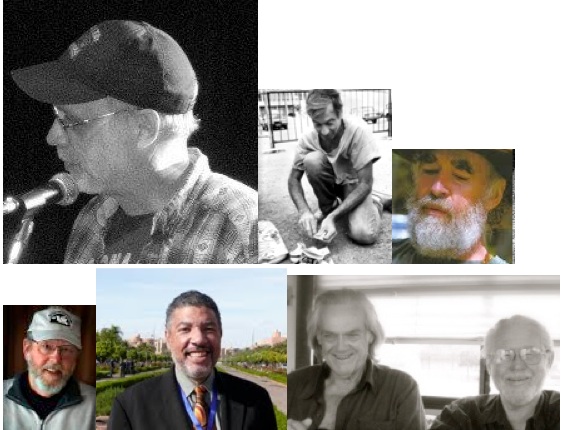 LA Vanguard and TCBH! staffs: Young, Ridenour, Lindorff, Grant, Washington, Thompson and Pleasants
Both these publications, the Vanguard and ThisCantBeHappening!, did and in TCBH!'s case continue to do a lot with very little. At the LA Vanguard, because we were still in the print era, most of the money went into production. We had to have an office to put the paper together. We needed Compugraphic typesetting and headline printing equipment and paste-up tables, a darkroom, news racks, a truck to distribute the papers, and we needed to pay for the whole web printing process. Our meager salaries for the 60-80 hour weeks we put in were almost an afterthought on the balance sheet. At ThisCantBeHappening!, in contrast, our only address is on the internet, we have no salaries, and our total expenses for the year are tallied in the hundreds of dollars.
But in both cases, we were able to do things that the corporate media, with their millions of dollars in fixed assets and millions more in editorial salaries, do not or will not do.
In Los Angeles, our little paper broke the story of the Los Angeles Police Department's shoot-to-kill policy in confrontations with even unarmed citizens (mostly black and Latino), we published a secret internal memo exposing how local judges were biased in favor of landlords because so many of them were themselves landlords, we covered the campaigns of progressive state candidates like Tom Hayden, and we exposed the links between the phone company and the growing local, state and national police apparatus. We also belatedly discovered ourselves to have been the target of the LAPD's "Red Squad," which dispatched a young undercover officer to join our staff, posing as a wannabe reporter–an assault on the First Amendment which the local ACLU chapter later said was "unprecedented," and which led to a five-figure damage settlement by the City of Los Angeles with the paper's staff.
ThisCantBeHappening! has also covered its share of otherwise ignored stories, and has broken news too, which the corporate media preferred to ignore. One example is on our home page now–an article, interestingly, by Ridenour, who is visiting for this event from his exile in Denmark and who went to participate in and report on the Brandywine Peace Community's Protest and Commemoration of the criminal bombing of Hiroshima on Aug. 6, 1945. You read about the anniversary of Hiroshima in the Inquirer and saw stories about that atrocity on the news (although it was not called an atrocity!), but you did not read or see any report on the Brandywine protest in front of the Lockheed-Martin war-machine complex adjacent to King of Prussia Mall, or on the arrests made when protesters there hung crime scene tape across the entrance to the plant, which helps make parts for the Hellfire missiles fired by remotely piloted drone aircraft into homes and villages in Pakistan.
If you've been reading ThisCantBeHappening!, you also learned almost immediately after his arrest, that the slaughterer of two young men in Lahore Pakistan last spring was not, as reported in the US media, some unfortunate US consular victim of a botched "robbery attempt," but rather a cold-blooded CIA contract killer, quite possibly involved in stirring up terrorist activities to destabilize Pakistan and foment a coup. You would have also seen the clip of a short cell-phone video showing two Israeli storm-troopers kicking and then executing, with shots to the head, a teen-aged Turkish-American volunteer on the Mavi Marmara Gaza aid ship–a clip that was never shown on American television. You would have learned that a young man arrested from his home in Philadelphia and frog-marched before TV cameras, charged with the killing of a white college student during a high-speed stolen-car chase, was the wrong man, the result not of confusion, but of deliberate police lying to prosecutors. Speaking of police and prosecutorial lying, you would have (and still can) see a video we made, with filmmaker Ted Passon, proving that death-row prisoner Mumia Abu-Jamal could not have slain Police Officer Daniel Faulkner execution=style as described by prosecution witnesses. And you would have learned, during the debates over President Obama's so-called Health Reform Bill, that by simply extending Medicare to cover every American, all Americans could have by now been receiving the same quality care that elderly Americans do, at a total cost of about half what the nation currently pays for health care. None of these stories got reported in the national or local media, with all their millions of dollars and thousands of journalists on staff.
Why?
And why can't the alternative media, like ThisCantBeHappening!, and the LA Vanguard before it, do more to break down the information barriers and blast through the propaganda?
Come join us this Thursday for an open forum and let's figure this out together, and figure out what to do about it!
If you can't come, please consider making a donation to support our work here at the LA Vanguard. We do it all for free, but if you readers would support us, even with $5 each per year, we could do a whole lot more!