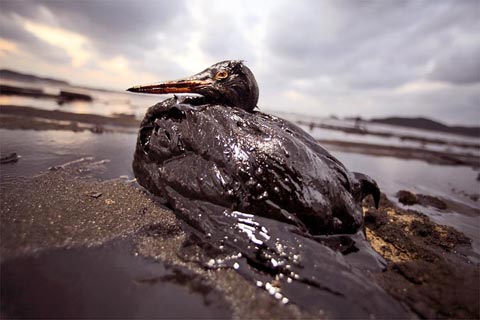 Oil-soaked bird in the Gulf of Mexico, brought to you by BP, your government, and your car
Looking out across the gulf
Of our mistakes, accidents and crimes
I see a murky horizon
Blurred by the brine of a tear…
That is taking its time
Gaining enough weight
To trail down my cheek.
The deep horizon of this grief
Is far deeper than I thought.
Was I foolish to come?
Didn't I know that any space so hollowed
And left empty,
Even for an instant,
Fills with the tears of those
Who wept before us?
Such a weight, such a gulf,
Such a deep horizon.
Even the crabs, the flattest of nations,
Cannot squeeze beneath
This mile-deep grief.
Fish roast in the sun
Like blackened shavings
Of silver and copper;
In solidarity,
I mimic their down-turned mouths.
. . .Sickened by the smell of the air we have made. . .
I come here to wade knee deep
Into this ruined place
And try to feel what we've done,
But I can't even properly ask
A dead pelican for forgiveness:
But if our madness is our refusal to learn
From your sacrifice
Then our madness is our tomorrow.
What if we can't make it better
Unless we go away?
. . .As you return to what you were
Before we called you "pelican",
Let us then return to what we were
Before we named you!
What was that?
What were we anyway,
Before we named ourselves "chosen"?
___________
GARY LINDORFF is an artist, musician, poet and counselor / dream-worker who practices shamanic techniques, and who lives in rural Vermont with his wife and two dogs. (He is also Dave's brother.) His website is: www.bigdreamsweb.com