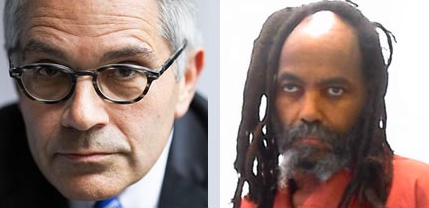 The organization Roots Action has delivered a petition signed by 6700 people from Philadelphia, Pennsylvania, across the country and around the world,  to Philadelphia District Attorney Larry Krasner, demanding that Mumia Abu-Jamal be allowed to re-argue his original appeal of his conviction to the state's highest court.
The petition, which can still have names added, states:
Dear District Attorney Krasner:
As you know, respected human rights groups like Amnesty International have criticized the 1982 trial that convicted Mumia Abu-Jamal – as well as the corrupted appeals process that followed. Amnesty pointed to racial bias at the trial and "possible political influences that may have prevented him from receiving an impartial and fair hearing." Since that tainted trial, Mr. Abu-Jamal has spent roughly 37 years in prison, much of it on death row in solitary confinement.
After [Pennsylvania Common Pleas] Judge Leon Tucker recently granted Mr. Abu-Jamal the right of appeal based on the appearance of bias in the appeals process, we were dismayed to hear you have decided to challenge Judge Tucker's decision, apparently over concern that it might open the way for appeals by other less prominent convicted prisoners.
We urge you to drop your appeal of Judge Tucker's ruling – and we ask you: Given the racial, judicial and political biases that have tarnished Mr. Abu-Jamal's case from day one, isn't nearly four decades behind bars more than enough?
Here's the back story. In 1982 Abu-Jamal was tried and convicted by a panel of 9 white and three black jurors of the 1981 murder of white Philadelphia police officer Daniel Faulkner. The trial at the time, under the notoriously pro-prosecution Judge Albert Sabo, was widely condemned as a travesty of justice, with the judge siding with the prosecution at every turn, even refusing to delay the trial in order to hear crucial testimony from a defense witness, a police officer whose written report the night of the hospital contradicted the testimony of police who had claimed Abu-Jamal had "shouted out" a confession in the hospital emergency room.
A few years later, as Abu-Jamal's legal team was appealing his conviction and his death sentence, it was the Philadelphia District Attorney's office that was responsible for fighting that appeal. The DA at that point was Ronald Castille, a Republican prosecutor who ran for election on a tough law-and-order platform of supporting the death penalty and who for four years oversaw that high-profile legal battle by his office's appellate team.
The legal issue now is that after leaving the DA's office after one term, Castille was appointed to a seat on the bench of Pennsylvania's highest court, eventually rising to the position of Chief Justice before retiring in 2014.
Castille was a Supreme Court Justice when Abu-Jamal's appeal of his Post Conviction Relief Act hearing — which was presided over and had its findings rejected by the same Judge Sabo — as well as several other of his PCRA hearings, also rejected, reached the high court for review. Abu-Jamal's legal team requested that Castille recuse himself from those appeals saying that there was a conflict of interest because of his early role in fighting them as DA, but Castille refused to do so, insisting that he could consider the issues fairly.
Earlier this year, in an appeal of that failure to recuse, Philadelphia Common Pleas Judge Leon Tucker ruled that even if no documentary evidence could be found proving that Castille had played an active role in the legal effort to defeat Abu-Jamal's appeals, there was a clear "appearance of conflict of interest" in his dual role as prosecutor and later high court justice. Judge Tucker ordered that Abu-Jamal should be able to appeal all four of his PCRA cases before the state Supreme Court again, without Castille on the bench.
The only person or entity with standing to appeal Judge Tucker's ruling is the Philly District Attorney's office, which is now occupied by Krasner, a former civil rights and criminal defense attorney who has been actively trying to make the DA's office focus on delivering justice instead of just winning cases.
While Krasner has already introduced a lot of progressive change into an office notorious for its aggressive locking up, and harsh sentencing of those it prosecutes — especially non-white defendants — declining to seek the death penalty and virtually eliminating cash bail measures that  had been for years used to lock up poor people awaiting trial for months and even longer, even when they were later found innocent — in this controversial and high-profile case he decided to appeal Judge Tucker's opinion.
According to reports, Krasner and some of his key advisors apparently worried that the wording of Judge Tucker's ruling could lead to appeals by all inmates from Philadelphia whose appeals, like Abu-Jamal's, had been underway during Castille's term as DA, and then were heard by a Supreme Court on which Castille was a sitting justice and didn't recuse himself.
Critics of Krasner's decision say it is legally and ethically wrong on two counts:  First of all, Abu-Jamal's case is clearly special. As an internationally prominent and locally controversial prisoner whose incarceration, and earlier whose execution, has been strenuously demanded by the state's politically powerful police union, the Fraternal Order of Police, there's no way one can seriously believe ex-Justice Castille's assertion that he played "no attention" as DA to how his subordinates were defending against his appeal of his conviction.  Secondly, Krasner of all people, as a former defense attorney and a man who ran for DA saying he wanted to restore justice to the office, should not be afraid of having those less prominent whose appeals might also have been tainted by Justice Castille's apparent conflict in refusing to recuse himself from considering them, get a rehearing before a fairer Supreme Court.
That's the point of the Roots Action petition which was delivered to Krasner's office by hand a week ago with no response so far, and with no mention in the local Philadelphia media, despite press releases being sent to all major local news outlets, according to Roots Action co-founder and policy advisor Jeff Cohen.
Judge Tucker's order is crucial to Abu-Jamal's fate. After 37 years in prison, much of that time spent facing execution and being held in solitary confinement at the state's supermax prison facility SCI Green, Abu-Jamal has exhausted his avenues of appeal, barring new evidence of innocence in the the case and faces life in prison without parole. But because his PCRAs, especially his first one which was slapped down and so egregiously mishandled that even the Philadelphia Inquirer editorialized about Judge Sabo's embarrassingly blatant bias, did present or try to present such new evidence but were prevented, by the state Supreme Court's and Justice Castille's summary upholding of Judge Sabo's and other lower judge's biased decisions, it is important that the appeals be reheard by a fairer Supreme Court panel.
Krasner, if he is serious about running a just DA's office,  should listen to the 6700 or more voices calling on him to drop his appeal of Judge Tucker's profoundly justified ruling calling for a new Supreme Court hearing on those PCRA appeals. And not just for Abu-Jamal, but for all other state prisoners whose legally mandated appeals of their sentences were tainted by Justice Castille's bizarre and shameful refusal to recuse himself from hearing and deciding on them.
Dave Lindorff is author of the critically acclaimed  Killing Time: An Investigation into the Death Penalty Case of Mumia Abu-Jamal (Common Courage Press, 2003), the only book about this case written by a journalist not allied with advocates on either side.