Is The Green Party a Spoiler For Trump?
A liberal/left midterm debate

I have nothing against The Green Party. I have friends who swear by it and work for it and its candidates. During the 2012 election, I struggled with Philly cops to photograph Jill Stein getting arrested for civil disobedience at a bank in Philadelphia. She's an honorable person with good intentions. But I never voted for her. In national elections like the one in 2016, I was a hold-your-nose, strategic voter for the Democrat; I saw a vote for Stein as a wasted vote -- or worse. As it turned out the election was incredibly close, creating questions, such as whether a vote for Jill Stein was Quixotic and whether it had greater strategic power as a spoiler vote for Donald Trump.
This question really stands out in the special congressional election this week in the Ohio 12th District. "That district has been Republican in 48 out of 50 years," said Republican pollster Frank Luntz about the closeness of the race. "That's a hit in the head with a baseball bat." There was a less than 1% difference in votes between the two candidates; and with over 3000 provisional and absentee ballots still to be counted, the Democrat could still win the election in the end. The Green Party reportedly got about 1% of the vote. Do the math. Because the election was so very close, the Green Party seems to have been a key factor in putting the congressional Republican over the top.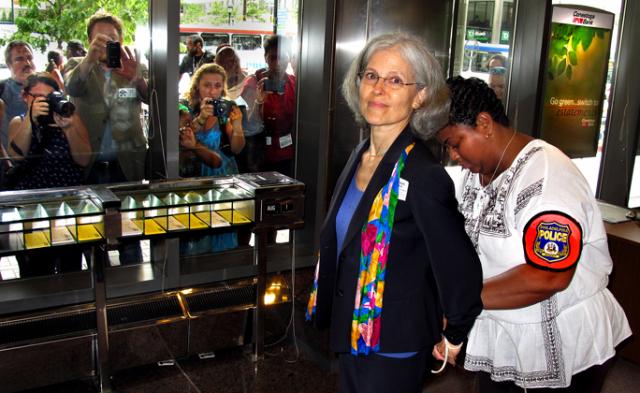 Dr. Jill Stein being arrested in Philadelphia when she ran for president in 2012. (Photo: John Grant)
I wonder whether the Green Party is a self-inflicted wound on the part of a greater Left, which one might see as a volatile coalition of moderate, centrist liberals and more radical, angrier leftists. Green Party people, of course, disdain moderate, liberal Democrats like the plague. This has little to do with personalities or ideologies or utopian visions. It has to do with pragmatic electoral politics in a nation at a profound crossroad. (We could debate this stuff all night.) There's intense polarization and a growing sense of tribalism. Everything that was once common ground is now shaky. There's all the old government crimes to deal with and, suddenly, there's a new sense of encroaching authoritarianism that may be in synch with unsavory events and personalities around the world. Great gobs of dark money are obviously fueling it all. More and more normally-centric people are realizing it could happen here. There's the old metaphor of the frog in the water who does not jump out because the temperature is raised very slowly a half a degree at a time. Presumably, at some point the frog will recognize it's damn hot -- but by that point the little fellow's energy may be so tapped-out by the rising heat that he can't move and is doomed. But that's just a silly metaphor.