My Vietnam War, 50 Years Later (Part One)
A REMF Way Out In The Front (A Personal Essay)
Click here to go to My Vietnam War, 50 Years Later, PART TWO: "Memory, Writing and Politics"

Each of us carried in his heart a separate war which in many ways was totally different . . . we also shared a common sorrow; the immense sorrow of war.
                                        - Bao Ninh, The Sorrow Of War
It's hard to believe that 50 years ago I was a 19-year-old kid in Vietnam sitting on a mountaintop near the Cambodian border in the forests west of Pleiku trying to locate equally young North Vietnamese radio operators with a piece of WWII RDF equipment I'd been told was obsolete. I was part of a two-man team, working in conjunction with two other two-man teams; our job was to listen for enemy broadcasts, which were sent in coded five-letter groups of Morse code. Sometimes we searched and located random operators. Other times, we'd get an intel lead on when an operator would come up. Using the silver-alloy rotating antenna of the obsolete PRD1, we obtained a bearing that was then plotted on a map; hopefully, the three bearings would provide a tight fix and locate the operator. We'd give the map coordinate to division G2, who would assign some death-dealing operation to search and destroy whatever was on or near the coordinate. Throughout it all, I remained relatively safe, while the men I most respect in this business of war -- the mostly drafted infantrymen, or "grunts" -- did the dirty work "humping the boonies" with weapons and packs. I went to Vietnam on a troop ship (a rust-bucket named the USNS General Hugh J. Gaffey) in August 1966 with an Army Security Agency company; once we arrived in division base camp in Pleiku, seven of us were assigned to a tactical DF team with, first, the 25th Division, then the 4th Division. I later spent some time at a cushy strategic DF site in Camrahn Bay.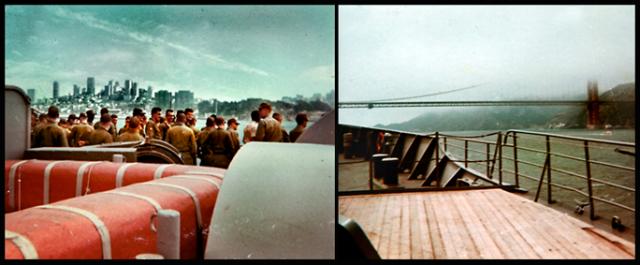 Aboard the WWII-era USNS Hugh J. Gaffey headed under the Golden Gate to Vietnam, August 1966