Emergency Illness Exposes Lies In Abu-Jamal Case
Mumia's Specialized Mistreatment
The recent emergency hospitalization of Mumia Abu-Jamal arising from alarming failures to address his chronic illnesses has exposed the inaccuracy of an assertion long made by adversaries of this inmate whom many around the world consider a political prisoner.
His adversaries charge that Abu-Jamal receives special treatment in prison.
That's true, but not in the way Abu-Jamal adversaries mean it.
When an ambulance delivered Abu-Jamal to the intensive care unit of a hospital outside of the Pennsylvania State prison where he is serving a life sentence, he was on the doorstep of a diabetic coma – a condition that is often fatal. Abu-Jamal's blood sugar level was 779, which is just shy of the diabetic coma level of 800. Additionally, his sodium levels were also highly elevated, another condition with potentially dire medically results.
If Abu-Jamal is as pampered in prison as adversaries assert, his diabetic condition would not have festered as it did dangerously for several months necessitating his emergency hospitalization. In reality, the 'special treatment' adversaries proclaim is actually specialized mistreatment.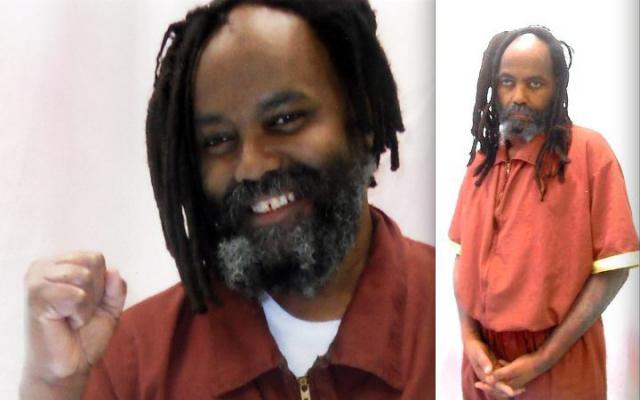 Mumia Abu-Jamal as he looked before and after his untreated diabetic crisis, during which he lost over 50 lbs.

Routine blood tests register blood sugar levels and Abu-Jamal had reportedly received multiple blood tests inside the prison infirmary during treatments this year for illnesses including a full-body outbreak of eczema that caused painful itching and burning.
Yet, no evidence has been released by state authorities to counter charges from Abu-Jamal's family and far-flung supporters that prison medical personnel did not aggressively address Abu-Jamal's elevated blood sugar levels which would have been recorded on those tests. Prison medical personnel did not address Abu-Jamal's diabetic condition with medications or changes in the typical high-starch/high-sugar diet regularly served to prisoners, including prisoners with diabetes.
Further, Abu-Jamal's family and supporters, who, despite obstacles, visited with him before, during and after that emergency hospitalization, said he had suffered an adverse reaction to medication prison personnel prescribed for the eczema. That medication produced severe swelling in Abu-Jamal that caused his skin to rupture. The rupture produced open sores that required antibiotics.
"Mumia said he is burning inside from head to toe from that skin rash. He was still burning when he was sent back to the prison from the hospital for that diabetic shock," said Pam Africa, director of the Philadelphia-based International Friends and Family of Abu-Jamal, who saw the ailing Abu-Jamal after his return from the hospital. Africa said Abu-Jamal has lost over 80-lbs since early January and is frail.
"Mumia said other inmates have the same skin rash. He said over 100 people inside that prison have diabetes."