Honor, Sacrifice and Imperial Duplicity
Four Dead in Niger. Anybody Know Why?

John Kelly's defensive scolding from an official White House podium nicely symbolizes the quandary in which US leadership often puts members of our military. On one hand, it was a cry-from-the-heart calling for respect (a return to a "sacred" status of yore) for young soldiers asked to put their lives on the line for US foreign policy. This was given with restrained emotion and gravitas, due to the loss of his own son, Robert, in Afghanistan and the fact he has a second son on a fifth combat deployment. A Marine commander during some very bloody years in the Iraq War, Kelly noted his role sending men (like his sons) to their deaths. Politics aside, one had to respect his candor.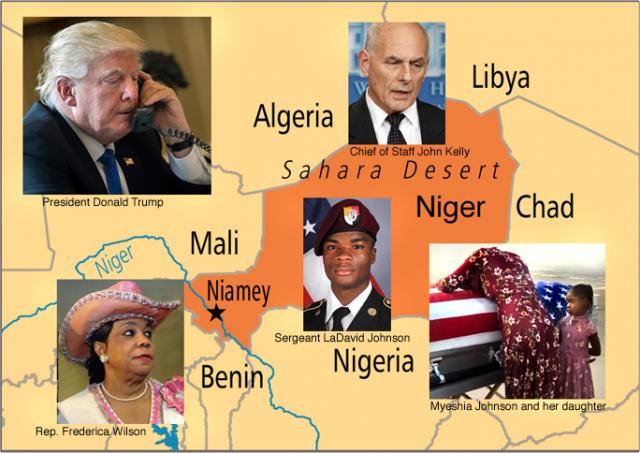 Mali, Niger and Chad and the principals in this story. What happened in Niger? Is Chad the key?
But, then, he blew it. He shifted from his experiences to a crass political attack on Congresswoman Frederica Wilson, a former teacher and school principal now in her fourth term representing the 24th District in the Miami area, an area with many poor, black kids. Speaking to the ambush death of Sergeant LaDavid Johnson in Niger, Kelly shifted radically from bottom-up words about soldierly sacrifice to top-down political mud-slinging in defense of his boss, maybe the most flagrant, bald-faced liar in White House history.
Thursday night, MSNBC host Lawrence O'Donnell pointed out, like Kelly, he's a white male product of segregated Boston, a northern city that went through an ugly and painful integration struggle. O'Donnell rightfully honored Kelly for the cry-from-the-heart part of his remarks. But, then, he raked the man over the coals relentlessly for a shameless, ignorant and possibly racist political reprisal attack on Ms. Wilson. He came off as completely ignorant of the fact Ms. Wilson is more than LaDavid and Myeshia Johnson's US congresswoman; she is a long-time personnel friend of the Johnson family. As a boy, LaDavid Johnson was her pupil in school and went on to participate through high school in a mentoring program she started. She has spent her life in rough areas helping to make decent young men like LaDavid Johnson. Kelly never even mentioned Wilson's name, instead called her an "empty barrel" (whatever that means) and suggested her presence in the car with Johnson's widow and her listening in on the conversation, which was on speaker-phone, was somehow show-boating. "These are people I've known since they were little children," Wilson told The View. "His uncle went to my elementary school. I was his principal." Johnson's mother died when he was five and he was raised by his uncle and aunt, who were in the limousine with Mrs. Johnson and Ms. Wilson.