Guns and Religion in a Small Town on Memorial Day
An anti-war vet in Trumpland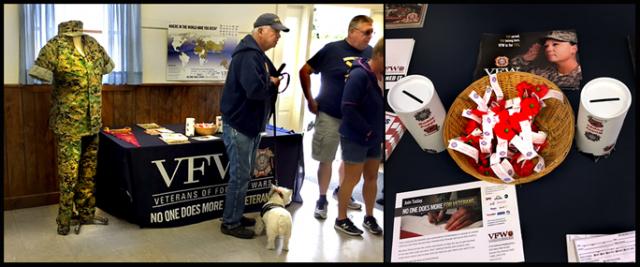 Memorial Day attendees around a table featuring the traditional poppies. (Photos: Michael Uhl)
The head of the town Historical Society, a tiny woman of a certain age – and originally from New Jersey if memory serves – returned to the mic and cast a gleeful beam over the gathering, now chastened by the reminder of our survival. She had taught English for many years at the Waldoboro High School, and possessed the forbearing eye that a principal displays before a school assembly. We were now her classroom, and a brief lesson traced the origins of Decoration – now Memorial – Day from 1868, when widows organized to decorate the graves of soldiers killed in the Civil War. Judging from the miniature flags that pop up at all the local cemeteries around this holiday, the widows are still at their task.
Many outsiders, and me in spades, develop a fascination for the local history that far outstrips the interest of the local natives. And Waldoboro has a history unique to all of Maine. A compete anomaly in a colony saturated with settlers from the British Isles, the frontier surrounding what became Waldoboro was peopled by Germans in the mid-18th century. This is the stuff from which our emcee now draws to flatter the many ancestors of those Palatine pioneers who are present. Although she is by far the best educated and most articulate of the several speakers who will yet address us, she too is a true believer, well-schooled in the revision of history at the service of civic indoctrination. And so the vitae of the figure from the town's colonial past chosen to reinforce the traditional values we are called here to witness and celebrate must be embellished by urban myth, which I cite to justify my dangling epitaph above.
Conrad Heyer did indeed have a storied life. His fame rested to some degree on longevity. Born in the middle of the 18th century during the so-called Indian Wars, he was well over a hundred when he died in the middle of 19th on the brink of the Civil War. Heyer was therefore one of the last of the town's original German speakers, and a man whose piety history records as a lifelong congregant and choir member of the Lutheran Meeting House, a majestic relic of colonial post and beam construction, now open to tourists. Multitudes from Waldoboro and the surrounding communities turned out for the public funeral when he was buried there. Heyer was a small farmer, and poor like most of his neighbors; late in life he received a revolutionary war pension, a then "princely sum" of $8 a month.