Cancelled Left Forum Panels to Appear Instead at 'Left Out Forum' Protest Event on Left Forum Conference's Last Day
Left Forum Bans Four Panels Under Zionist Pressure
Beginning today, June 2, the Left Form (formerly the Socialist Scholars' Conference), will conduct a three-day event featuring panel discussions on all manner of topics. As the organization states on its website: "Continuing a tradition begun in the 1960s, we bring together intellectuals and organizers to share perspectives, strategies, experience and vision."
Unfortunately, this year the board, or at least a majority of the board, of the Left Forum has caved in to pressure from a Zionist individual and a group in Germany to cancel panels that include two individuals whom these critics condemn as being "anti-Semitic" or "holocaust deniers." All four of the cancelled panels were part of a group of five panels organized to discuss issues involving the so-called Deep State and its impact on US and global affairs. The two individuals who were the target of the complaints are Islamic studies scholar and Veterans Today editor Kevin Barrett, and Anthony Hall, a tenured professor of liberal and global studies at the University of Lethbridge in Alberta, whose position was attacked by the Canadian B'nai B'rith organization.

According to the organizers of the banned panels, the first decision to ban three of the five planned Deep State events was announced by the LF board on May 8, in a brief email message that offered no explanation for the decision, and that was reached without first offering either the panel organizers or the individuals defamed a chance to respond to the unacknowledged charges. Here's the note that was sent out by the board on May 8 (less than four weeks before the start of the Left Forum event):

Unfortunately, we are writing to inform you that your panels
A) Panel Title: 9/11 Truth: Ground Zero for a Resistance Movement
B) Panel Title: False Flags: Staged, Scripted, Mass Psy-Op Events
C) Panel Title: "Terrorism": Fake Enemies, Fraudulent Wars
have not been selected as a part of this year's Left Forum program. We do not take for granted the time and effort organizers put in to the proposal process and understand that this news may come as a disappointment.
We do however want to express our appreciation for your interest in making a programmatic-contribution to the 2017 conference.
We wish you all the best with your work and in the future.
Registration fees already made for speakers can be refunded.
Thank you very much.

Note that no mention is made in this message of any reason for the "non-selection" (actually cancellation) of the panels, depriving the panel organizers and defamed individuals of any ability to challenge the decision.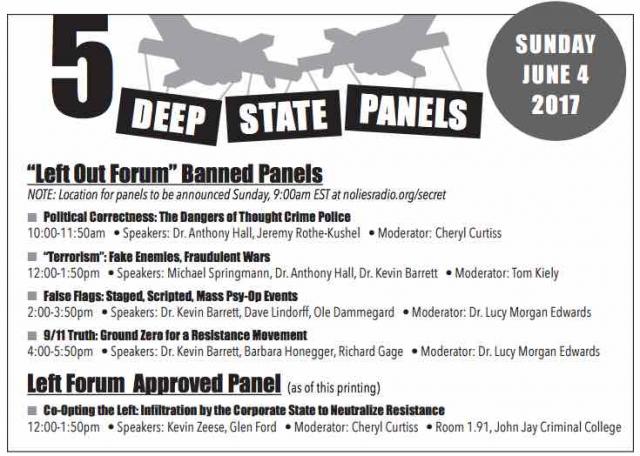 In response to a written request later that day for an explanation for the cancellation of the three panels, Left Forum Co-Director Marcus Graetsch only offered the following in a return email:

Regarding the reasons: