US Hegemony over Korean Peninsula Challenged by North Korea, and by New South Korean President
Washington can only delay, but not halt North Korea's self-defense advances
This cancer, which leaves South Korea -- the seventh largest national economy in terms of GDP right behind the UK and one of Asia's most modern countries -- as little more than a vassal state or colony of the US, needs to be excised. We will see how the new Moon administration grapples with it and how far the US will go to try and preserve this pathological relationship.
~~~~~~~~~~~~~~~~~~~~~~~~~~~~~~~~~~~~~~~~~~~~~~~~~~~~~~~~~~~~~~~~~~~~~~~~~~~~~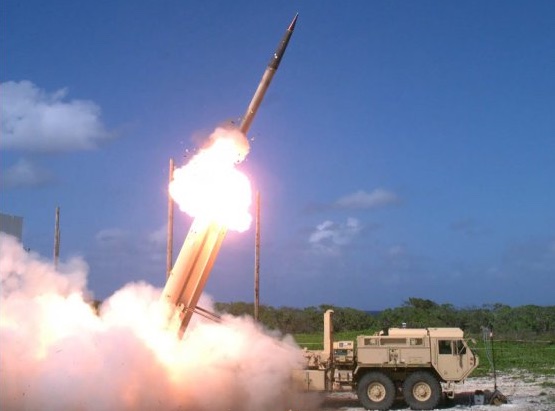 Test launch of US THAAD missile defense system now installed in South Korea against the popular wishes -- and amid doubts that it would work anyway against a real missile attack. (Army.mil photo)

North Korea today is not the North Korea of 1994 when President Bill Clinton seriously considered a preemptive strike against the Yongbyon nuclear reactor. Back then North Korea did not possess any nuclear weapons.
Now North Korea possesses the knowledge of nuclear weapons technology and any US cyberattacks can only slow the process of weapons development but not stop it. Most likely the North's ability to reconstitute nuclear weapons technology is there for good -- and it is proceeding with ICBM experiments too.
David Sanger ran an interesting article, "Trump Inherits a Secret Cyberwar against North Korean Missiles" (New York Times, March 4, 2017). In 2014, the Obama administration ordered Pentagon officials to step up their cyber and electronic strikes against North Korea's missile program. "Soon a large number of the North's military rockets began to explode, veer off course, disintegrate in midair and plunge into the sea."
Upon close examination, however, "Pentagon's disruption effort, based on interviews with officials of the Obama and Trump administrations, found that the United States still does not have the ability to effectively counter the North Korean missile program."
Despite Trump's saying "It won't happen!," North Korea will continue to develop its nuclear weapons technology. Trump may consider direct missile strikes on the launch sites as did Obama, but there is little chance of hitting every target.