Philly DA Office Must Provide All Records of Top Judge's Role as DA in Opposing Mumia Appeal
An opening to challenge Abu-Jamal's conviction
That order made recently by Judge Tucker requires the Philadelphia DA's office to produce all documents relevant to Castille's role in the Abu-Jamal case when he served as the DA of Philadelphia, which covers a period of five years, from 1986-1991. An assistant prosecutor in the Philadelphia DA's office since 1971, Castille became Deputy DA under then District Attorney Ed Rendell in 1983 and was elected to succeed Rendell in 1985. Castille was elected to the state's Supreme Court in 1993, and was later elevated to the position of Chief Justice of that court in 2008. He retired from the court in 2014 when he reached the mandatory retirement age of 70.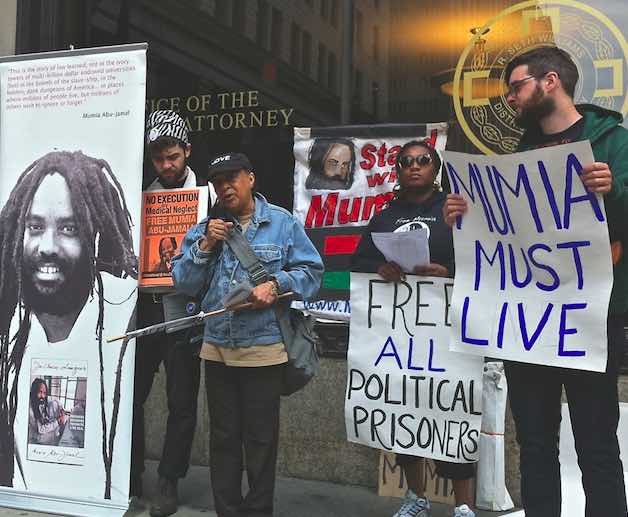 Mumia supporters protest at the office of the Philadelphia District Attorney, which retired Justice Ron Castille headed for four years (Photo by Linn Washington)

Supporters of Abu-Jamal are calling Judge Tucker's discovery order a rare victory in a lengthy string of appeals of Abu-Jamal's conviction because courts have for decades rejected even the most appalling evidence of improprieties repeatedly presented in Abu-Jamal's appeals despite those same courts often having already granted appellate relief to other inmates who had raised precisely the same issues as Abu-Jamal, often based on less evidence of official wrong-doing than found in Abu-Jamal's case.
Lawyers for Abu-Jamal in 1997 had formally requested that Castille not participate in the deliberation over their client's appeal and instead recuse himself because of his earlier role as DA and also because of his long association with Philadelphia's police union, the Fraternal Order of Police. During his 26 years on Pennsylvania's death row, the FOP was the leading advocate of Abu-Jamal's execution, often organizing protests by police that featured banners calling on the courts to "Fry Mumia." The FOP had given Castille Man-of-the-Year awards and provided political support and campaign cash for his election to DA and the Pennsylvania Supreme Court.
That recusal request was based on Pennsylvania's Code of Judicial Conduct provisions that urged judges to recuse themselves from cases where they "have personal knowledge of disputed evidentiary facts concerning" in that case and when their former employment by a "governmental agency" raises questions of impartiality.
Castille refused that request and instead participated in the court's 1998 ruling against an Abu-Jamal appeal. He wrote a separate opinion along with the court's ruling, presenting his reasons for rejecting a petition for his recusal -- an opinion that included some bizarre explanations for his decision.