Commemorate This!
A piece of cake and a pin for your service
I was playing reporter on the fly with a short window. I am convinced that the general outline of the story one guy told me could stand for lots of others in the room. Most veterans – certainly prior to their service – come from the non-college educated working class. I passed for gentry in this crowd. The vet I talked with grew up in an old mill town where his forebears had migrated from Quebec Province a few generations back. He was a senior in high school in the waning sixties when he got his draft notice. After graduation he enlisted in the Air Force, and was trained as a combat engineer. By 1969 he was laying steel mats for landing strips all over Vietnam. He didn't want to be there, he said. He was in a bad state of mind. His girlfriend had broken up with him just before he went in the service. He was 22, and on a base in the Delta he supervised a Vietnamese man he described as a peasant, about 70. He was amazed at how a man that age could perform such heavy labor. On one occasion he was invited to visit the man's thatched home. It contained "a couple of plates, a couple of knives and forks, everything he needed." That lesson wasn't lost on him, he said. Still he "felt sorry" for the old papasan because "he had never known peace." I asked him if the war was worth it, and he said no.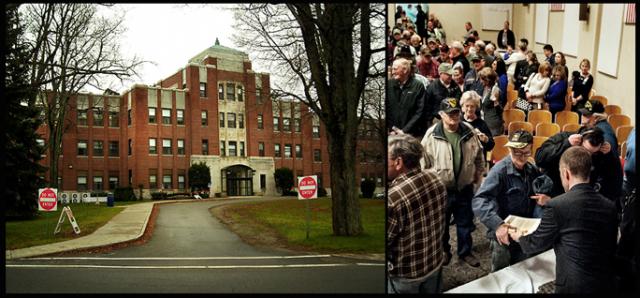 The VA at Togus, Maine, and a shot from the commemorative ceremony featuring Governor LePage
That's not the message we would hear in this assembly. As a topic, the war can't be completely ignored by its apologists at the Pentagon who manage the Vietnam War Commemorative franchise. But discussion can be limited, ideally dispensed with, by reinforcing a false historical judgment that panders to the sensibilities of select audiences of veterans, like, I'm assuming, those drawn to this event. Not that most read it or needed to be reminded, but, just in case, the official thinking on how Vietnam should be remembered was laid out explicitly in the printed program we'd been handed on entering the theater. If we lost the war – just saying – it's not because "the U.S. was defeated in battle;" our defeat was "political," not military. Unfairly, veterans were blamed for the loss, and when they came home, "treated poorly."
When the audience finally settled in the formal program began. The half dozen men in suits who'd been milling around the front of the hall now spoke in turn from the podium. The invocation came from a chaplain, said to be a former combat medic, who thanked the lord that we'd all been able "to serve America in a time of conflict." He then ad-libbed a gushing aside in praise of the ranking dignitary who'd come to address us, Maine's very own Tea Party governor, Paul LePage, whose face had been on high beam since the moment he'd arrived. Next the director of the Togus VA delivered, rapid fire, four or five different ways to thank us for our service, punctuated by as many god-bless-yous, then moved solemnly from the podium and intoned, "If you are able, stand, so we are able to thank you." Applause all around.