Hypocrisy, The New York Times Version
Trashing Nicaragua's success
The Times gets away with bad journalism like this because the popular North American image of Central America is -- and has been traditionally -- of a bunch of little, insignificant dirt-poor nations easily ignored. In this spirit, some conquistador in the 16th century named Honduras with the Spanish word for depths or ditch or ravine. That has always seemed to me akin to the American colloquialism for unpleasant places, "asshole of the world."
The Times editorial notably does not recognize the American "version" of dynasty now being played out in the carnival of this election season, the Clinton Dynasty. The editorial alludes to something fishy about Ortega's wife, Rosario Murillo, being named the vice presidential candidate in the upcoming November elections. Murillo is an internationally recognized poet and author; she speaks four languages and does a popular daily radio show. In the 1970s, she was an assistant to La Prensa editor Pedro Joaquin Chamorro assassinated by dictator Somoza. Given Ms. Clinton's role vis-à-vis her husband and given the Kirchners in Argentina, is such a woman as vice president a sign of corruption or a sign of the times?
The Times editorial's hypocrisy and its inadequate representation of history blunts any legitimate criticism the editorial may raise. The charge that President Ortega has lined up his ducks un-democratically for his November re-election campaign is hard to take seriously when, here in the mecca of fair democracy, we witnessed the dynastic Clinton machine and its mainstream media stooges like Chris Matthews run over the Bernie Sanders insurgency with the equivalent of tanks. Power tends to protect and promote itself everywhere.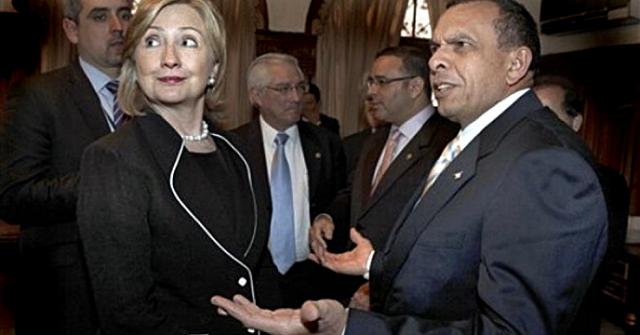 Secretary Clinton and post-coup President Porfirio Lobo in Guatemala eight months after the coup

Finally, there's Secretary of State Hillary Clinton's after-the-fact full acceptance of the 2009 military coup that overthrew duly-elected, left-leaning President Manuel Zelaya in Honduras. Benghazi was a debacle; this was a cynical decision that harked back to the past and supported wealthy, oppressive elements in Honduras. The coup was followed by a huge rise in murder and violence aimed at the poor and the left, including the assassination of well known environmental activist Berta Caceres and others. This is infuriating for those of us aware of, or tangentially involved in, the politics of Central American in the 1980s.