Denmark: SOS Save Our Sovereignty
Scandinavia on the skids and the failure of social democracy
(This is the first of seven articles on the reality of Scandinavia's "socialism")

I first met Denmark's last truly Social Democratic Prime Minister, Anker Joergensen in his state office, unannounced, in late 1980.
Grethe and I had just been married. We had met the year before in Los Angeles where I had been a "participatory journalist", and activist for social/racial/gender equality and against the Vietnam War. I wanted to start a new life with Grethe in her peaceful, social democratic land.
I took odd jobs and did freelance writing for some Danish media, and for progressive media in the US and England. As such, I often walked from Grethe's centrally located Copenhagen apartment to Christiansborg. The palace is the only building in the world that houses all government branches. The royal palace stood beside the seat of economic power, Denmark's Stock Exchange (Boersen).
Sometimes I covered official politics from my "palace playground", as my new wife quipped. The six-story building is a labyrinth of hard wooden stairs, long hallways and hundreds of offices. On my second trip inside, I ambled about unable to find the stairs that led directly to the balcony reserved for journalists covering the parliament. There were no guards and no signs on most doors. I stopped before a high door and turned the bronze polished handle. A small man sat behind a large desk. He turned about to look at me, a smile on his face. I flushed and spurted an apology for disturbing what I realized was the nation's political leader.
"That's quite alright. No problem," replied the prime minister unperturbed. His face wrinkled cozily through a black-white mustache and goatee. Thinning black hair was brushed back revealing a partially bald scalp. No guards or assistants appeared as I quietly closed the big door.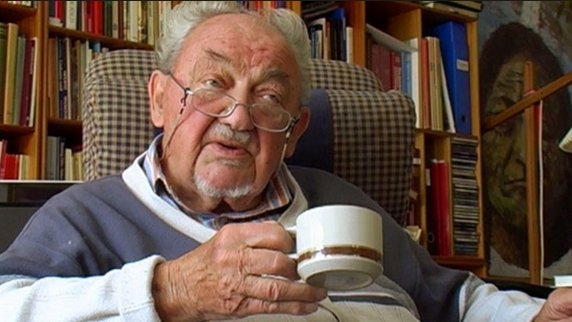 Denmark's last real social democratic prime minister, Anker Joergensen

Later in the 1980s, I spoke a few times with the unassuming man when he was no longer prime minister yet still the Social Democratic (SD) party leader. We attended Danish union meetings with delegates from unions in Central America, men and women under threat by death squads working with the CIA and US military "advisors" backing murderous dictatorial regimes. In 1985, I again met Anker, as he was known by all, standing beside his old-fashioned, gearless bicycle in the dead of winter. I asked him, as I had Palme, if he would be on standby if we had use for his political influence during the Central American peace-solidarity march. Anker readily agreed, and he did act when our marcher in El Salvador got arrested.