Radioactive Texas Waste Dump Threatens Key US Water Resource
Hot and dry in the heartland:
In a remote place in the desert of West Texas, outside the small town of Andrews, something dirty has been going on which threatens the water supply of nearly a third of America's farmland (and perhaps the millions of people who eat the food grown using that water).  
The highly radioactive spoils of nuclear power plants from 36 states -- as well as other seriously toxic or carcinogenic substances, such as PCBs dredged from the Hudson River -- are being dumped there on a regular basis, and this will continue until the designated hole in the ground is filled.  
That designated hole happens to be right on the Ogallala Aquifer, according to environmentalists. 
At 174,000 square miles, the Ogallala Aquifer is the world's second largest, providing water to 27 percent of the entire agricultural land in the United States.  An aquifer can be a superhighway for nuclear waste, as shown by studies of the movement of waste at polluted nuclear sites such as Hanford, Washington. 
The dirty dump owes its existence to dirty politics. Local residents say officials came to town to conspire with billionaires on ways to silence their opposition to the dump. Owned by Waste Control Specialists (WCS), the site was built by Harold C. Simmons, a top contributor to the campaigns of George W. Bush, Rick Perry and the Super PAC run by Bush confidant and Republican Party strategist Karl Rove.  Opponents say that WCS amounts to "a privatization of nuclear waste to help a billionaire make billions of dollars more."  
Activists charge that the state of Texas granted WCS its license after repeated intervention by politicians bought by Simmons. And unlike most applicants for licenses, WCS bought the site even before it had performed a proper environmental study of it.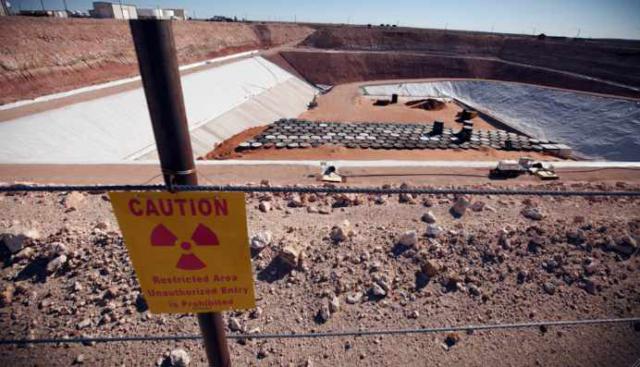 This Waste Control Specialists radioactive waste dump site in Texas threatens the nation's largest water aquifer, activists warn

According to Texas Commission on Environmental Quality geologists (TCEQ), leaks from the dump are inevitable. If those leaks got into an aquifer though, the result could be potentially catastrophic. The Ogallala Aquifer these days is being depleted at a much faster rate than it's being replenished. According to a report by the Massachusetts Institute of Technology, groundwater contamination, lenient regulations and a lack of goals by policymakers are causing major problems in this vast ancient fresh water source which took millions of years to be created. MIT says that at present rates of use the Ogallala will be drained within this century.