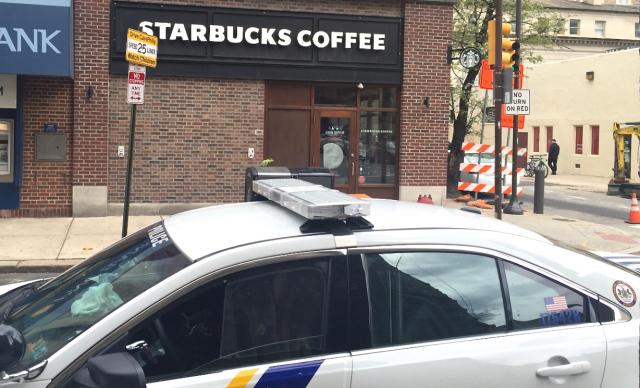 Philadelphia police car outside Starbucks location of infamous 4/12/18 arrest incident. PhotoLBW
Startling Philadelphia Police Department data related to the Starbucks coffee shop location where the flawed mid-April 2018 arrest of two black men sparked outrage internationally shines an unflattering spotlight on tolerance of racial discrimination within the Starbucks corporation and among police in Philadelphia.
This recently released data coupled with other accounts details a year-plus long pattern of discriminatory conduct by Starbucks personnel that seemingly received tacit backing from middle management at Starbucks and by Philadelphia police.
That now infamous April 12th arrest arose when a white manager at a Starbucks location in Philadelphia's ritzy Rittenhouse Square neighborhood called police on the two black businessmen two minutes after they entered the coffee shop to await a scheduled meeting with a white businessman who arrived as the pair were placed in handcuffs.
That Starbucks manager, identified in news reports as Holly Hylton, claimed the two businessmen had defiantly rejected her requests to leave the shop because they had not immediately made purchases. One of the pair had asked to use the shop's bathroom a request rejected by Hylton, who declared bathroom access is limited to paying customers only.
Hylton claimed she was merely enforcing Starbucks corporate policy. However, Starbucks CEO Kevin Johnson, said it was "completely inappropriate to engage the police" because those two men were not creating a "disturbance."
That recently released data – Philadelphia police 911 call logs – list 69 police responses to various incidents at that 1801Spruce Street Starbucks location between January 2016 and April 18, 2018. Those incidents ranged from improper operation of the security system to robbery.
Alarmingly, during 2017, Starbucks personnel at that location called police 28 times to report what police coded as 'disorderly crowds.'
This Philadelphia Police Department data document that after Hylton's reported arrival at that Starbucks location, 911 calls to report disorderly crowds soared.
A former Starbucks employee who worked at the 1801 Spruce location, told London's Daily Mail that Hylton "often targeted" non-white customers for removal from the store.
In 2016, before Hylton's arrival at that location, there were only two 'disorderly crowds' 911 calls.
But during the first four months of 2018 during Hylton's managerial tenure there were five 911 calls related to alleged disturbances at that location.
One of those 911 calls led to the arrest of businessmen Rashon Nelson and Donte Robinson at 4:40 p.m. on April 12, 2018.
Eyewitnesses to that arrest said those two men were not creating any disturbance when Starbucks personnel summoned police, who detained the pair on the charge of defiant trespass. Police held the pair for hours before their release. Prior to that release, Philadelphia prosecutors determined neither Nelson nor Robinson had committed a crime.
That April 12th arrest triggered days of protests at that Starbucks located in a residential area of downtown Philadelphia and led to prompted profuse apologies from top Starbucks officials, including CEO Johnson who rushed to Philadelphia to tamp down the furor.
That arrest also intensified criticisms against the controversial racial profiling-based stop-&-frisk tactics employed by Philadelphia police.
A repugnant record of stalking blacks exists among PPD personnel in the police district that includes the 1801 Spruce Starbucks location.
That 9th Police District has the highest levels of race-tainted pedestrian stops in the entire city of Philadelphia. The PPD's own data documents that African-Americans represented 67 percent of the police stops in the 9th District in 2017 despite blacks being just three percent of that District's population.
Hylton admitted to Philadelphia journalist Chris Norris that she routinely called police on customers without providing customers with prior warning of their alleged infraction.
That former Starbucks employee who found Hylton's behavior "racist" is Ieshaa Cash.
Cash, during news media interviews, said Hylton also discriminated against her personally, including demoting her from a supervisory position and lowering her pay. (Hylton no longer works for Starbucks according to news reports and vague statements from Starbucks corporate.)
Cash said she complained to Starbucks district management about Hylton's discriminatory actions but management ignored her complaints.
The Starbucks corporate media office refused to respond to repeated requests for comment.
Telephone calls to the Starbucks media office in Seattle receive an automated response directing inquiries to contact Starbucks via an email account. Inquiries sent to that email account receive an automated response directing back to the same telephone number that directed inquires to that email account.
Starbucks would not comment on the charges Cash leveled at Hylton and district management. Starbucks would not comment on what action district and/or corporate management took regarding the high volume of 911 calls from that Spruce Street location.. Starbucks would not comment on safety issues for its employees seeming presented by the high volume of alleged disturbances at that location.
Starbucks did reply to an inquiry made by Patrick Duff, the researcher who obtained the PPD 9ll call logs through a freedom of information request. Starbucks responded but did not answer the two questions posed by Duff: (1) Is it normal for a location to call 911 42 times in one year? (2) When did Holly Hylton start?"
A Starbucks Customer Care representative sent an email to Duff that stated:
"Patrick, we strive to create a culture in our stores where everyone is welcome, and where everyone belongs. We believe in treating each other with dignity and respect, and will thoroughly investigate this incident," Customer Care representative Paul G. wrote in that email to Duff. "While we understand your concern, as we have shared previously, we consider your claim having been investigated and now a closed matter."
While the matter maybe "closed" for Starbucks, Philadelphia's Commission on Human Relations is investigating circumstances surrounding the controversial 4/12/18 arrest. Philadelphia's mayor ordered the Commission to investigate.
Philadelphia law protects the "basic right to fair and equal treatment" in public accommodations according to a City Hall website page that states public accommodation includes "places where food and/or drinks are served"…like a Starbucks coffeehouse.
That City website posting notes that public accommodation discrimination occurs "when someone is offered less favorable service than others."
A caffeinated example of someone receiving less favorable service than others is when a Starbucks manager denies bathroom use to a black man on the claim that a purchase is required for toilet access while allowing others bathroom use without making the required purchase.
Customers in that Starbucks at the time of the arrests of Nelson and Robinson said Hylton and her staff allowed other non-paying persons access to the bathroom.
The Philadelphia Police Department is reportedly examining the actions of the arresting officers.
Philadelphia Police Commissioner Richard Ross caused a ruckus when he initially declared his officers did nothing "wrong" in providing "a service" to Starbucks by removing persons who were trespassing.
Ross later walked-back his hasty support of arresting officers, contending he was not aware that Starbucks is widely known for its practice of allowing people to sit in its facilities with or without making purchases.
Statements from Commissioner Ross make no reference to why police had not utilized their own 911 data that detailed something was awry at that Starbucks, particularly the large number of alleged disturbances there where the targets of those 911 calls were routinely blacks.
Perhaps now ex-Starbucks manager Hylton did not know that her denial of bathroom access was illegal.
However, responding law enforcers should have known about Philadelphia's laws on public accommodation.
Many cite this Starbucks incident as evidence of the daily discrimination endured by blacks and Latinos. That discrimination is blithely downplayed by Philadelphia's City Hall and too many in Philadelphia's corporate, civic and church sectors –- spheres where ethical leadership is sorely lacking.
Too many easily overlook the realities of racism as if it were mere steam evaporating from a cup of hot coffee.