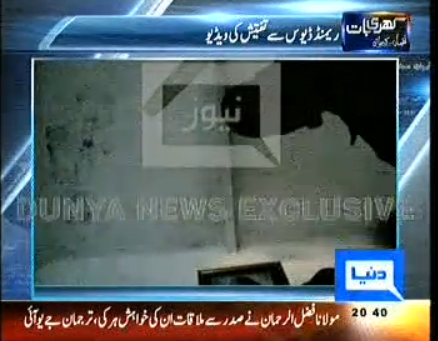 An interrogation tape of Raymond Davis is playing on Pakistan TV. He says he's 'just a consultant' at consulate
A tape being shown on Pakistan TV shows Raymond Davis laughing with Pakistani police after his arrest, immediately following his detention for the slaying of two young Pakistanis–most likely Pakistani intelligence operatives who were tailing him.
A YouTube version of the tape can be found at the bottom of our Homepage.
This recording, seemingly made by a camera lying on the floor or a table while Davis is talking with police in the station, also has him explaining multiple identity cards found on him linking him to Lahore and Peshawar consulates, and to the Islamabad embassy. Here are a couple of transcript segments:
Raymond Davis: I need to tell the embassy where I am.
Pak Police: What is your name?
Davis: Raymond Davis.
Pak Police: Are you from America?
Davis: Yes. I showed my passport to the police officer but now it's lost.
Pak Police: Do you work in the embassy?
Davis: I work for the Consular General in Lahore. I just work as a consultant there.
…
Pak Police: Do you want water?
Davis: Yes. Do you have a bottle of water?
Pak Police: This is pure water. No money, no water.
Davis: Can you search for my passport?
…
Davis: This is an old badge from Islamabad and this..Lahore.
The airing of this recording is likely to further inflame Pakistanis, who believe Davis should be tried for murder–particularly since the young wife of one of his two victims subsequently committed suicide by ingesting rat poison, saying she despaired of her late husband getting justice because of US pressure on the Pakistani government.