In Egypt and Pakistan: Profiles in Courage and Repression
Hate speech, jailed bloggers...a hint of what we may soon face?
As bad as things get for our movement in this country, we are not yet feeling the full throttle of repression and, if one needs a reminder of that and perhaps a profile of what's in store for us if we don't organize now, the situation facing Internet activists in the Middle East provides it.
Two weeks ago, June 11, Egyptian blogger and on-line activist Alaa Abdel Fattah was sentenced to 15 years in jail by an Egyptian court. His crime? He was part of a Nov. 26, 2013 peaceful demonstration in front of the Egyptian Shura council protesting a proposed constitutional provision allowing military trials for civilians. His trial was held at a police station and he and 23 other defendants in his case weren't allowed to be present. They were all sentenced in absentia as they stood outside the courtroom.
Fattah is one of the world's best-known Internet activists; he's given interviews to so many countries he's like a United Nations of sound-bites. That makes even more brazen the farcical trial and nightmarish sentence handed down. It also makes clear how far governments will go in implementing the blueprint for Internet repression that is being followed, in one way or the other, world-wide.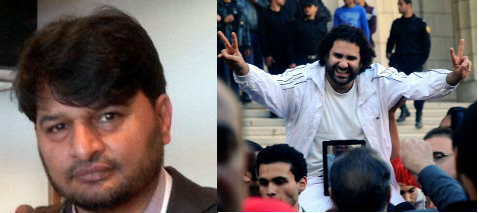 Ahmad (left) and Fattah: profiles in principle and courage
About a week later, Pakistan's chapter of Bytes for All (among the most acclaimed Internet rights organizations in the world) released a remarkable study about hate speech in Pakistan. The study is among the most informative ever on this topic and that's an enormous contribution. But its most important finding is that hate speech isn't some random rant by a fool or a crazy person; it is political, organized and a motor of repression.
Perhaps the greatest lesson is that the study was publized at all. Bytes for All (Pakistan) operates under relentless attack and repression. Its coordinator, Shazhad Ahmad, has been sentenced to death (the sentence deferred) and can't live with his family for security reasons. Its staff is constantly harassed and some staff members have been arrested and one was beaten fiercely outside the organization's office.
This is about how much worse repression can get and how it is being facilitated. But it's also about how, despite the conditions, brave people keep fighting and should be supported.
The Bytes for All report is couched in the careful and fact-laden language of NGO activism to present a treasure trove of facts, cases and quotes while making the case that all this is politically driven. Page after page of the report describes cases in which on-line and other public communications systems have been used to repress movements, deepen the oppression of women and target (sometimes successfully) opposition leaders for beatings or death.