Baby-Snatching Practice Blocked Motherhood For 20-million Seconds
Justice system abuses mothers with no apologies
The arrest and imprisonment of the MOVE 9 unleashed a chain of events that culminated in the horrific May 13, 1985 incident where Philadelphia police bombed another house occupied by MOVE members and deliberately allowed an inferno sparked by that bomb to burn, preventing fire fighters from trying to put it out.
That bomb-triggered blaze incinerated 11 MOVE members including five children. That police blaze also destroyed 61 adjacent homes and left 250 people homeless.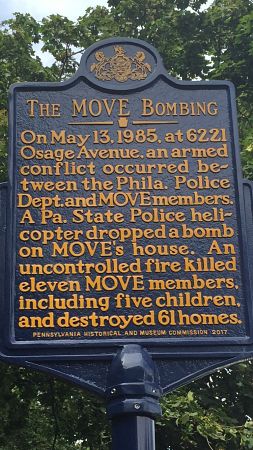 Pa State Historic Marker near site of deadly 1985 bombing by police. LBWPhoto

Police snipers drove some MOVE members who tried to flee their burning building back into the inferno where temperatures reached 2,000-degrees. Only one MOVE adult and one child escaped that deadly firestorm.
One of the MOVE members murdered by police action during that 1985 clash was MOVE founder John Africa. The five youth deaths included the children of Janine and Janet, Debbie's now former cellmates. No Philadelphia police officer or City official faced prosecution for that incident where an FBI agent supplied the main component for that bomb -- military C-4 hi-explosive -- that Philadelphia police dropped from a Pa State Police helicopter.
Debbie Africa said she is looking forward to strengthening bonds with her children and grandchildren. She will adjust to life outside prison like learning how to use a cell phone, a now ubiquitous device that didn't exist at the time of her arrest in 1978. And she said she would work for the release of her imprisoned MOVE family members.