The Trump White House is a Chaotic Clown Car Filled with Bozos Who Think They are Brilliant
Trump the 'master of the deal' has nothing to show
Meanwhile the trouble for Trump & Co's scheme in Iran's case is that none of the other parties to the agreement -- France, Britain, China, Russia and Germany -- see things their way. They all say that Tehran has been abiding by the terms of the agreement struck in 2015, and they aren't about to slap sanctions back on Iran. In fact, the European countries are outraged that Pompeo and Bolton are threatening sanctions against European companies that defy what would now be US -- not UN -- sanctions on Iran by continuing to trade with or invest in that country. China meanwhile is vowing to cut deals with Iran for long term oil contracts which it will pay for in Chinese renminbi, forgoing the heretofore requirement to pay in dollars. Europe too is talking about protecting its companies from sanctions by striking a deal to deliver Euros to Iranian banks, thus opting out of the US dollar-based international trading system.
That is to say, Pompeo and Bolton are triggering the very cataclysm that the US Treasury Department and the Federal Reserve have long feared, in which countries would abandon the US dollar as the international currency -- a status that for decades has allowed the US to live beyond its means and to fund its trillion-dollar-per-year military by simply printing more dollars at will. If countries don't need the dollar to conduct their international trade and investment deals, the dollar will crash to its inherent value, which, given the US's horrendous trade deficit, would be a small fraction of what it is worth today. To prop up the currency, the US would have to raise interest rates through the roof, crushing the economy.
Nice going Bozos!
It's going to be interesting to watch how all this plays out.
China knew it had the upper hand in trade negotiations when Trump's top trade negotiators, Treasury Secretary Steven Mnuchin and Chief Trade Negotiator Peter Navarro, were spotted engaged in a vulgarity-laced shouting match outside their hotel in Beijing. As the Washington Post wrote of the incident, "It's been amateur hour at the China negotiations."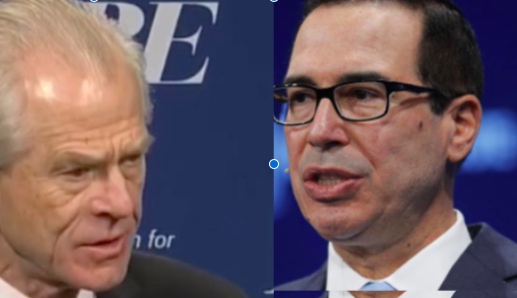 Peter Navarro and Steven Mnuchin: America's Trade Negotiation 'Team' at 'work' in China

Indeed it has. The US opening position -- a version of the usual surrender first, negotiate with us afterwards format -- was that China must give up its decades-long and very successful system of state planning for development, in particular its latest 10-year plan of government-directed investment to make China a leader in 10 key areas of technology, including communications, aircraft manufacturing and artificial intelligence. Right. Like they're going to do that. Instead, China turned around and announced plans to include the Chinese special administrative region of Hong Kong in the government funding program. Take that bozos.