The Shadow of Smuts on Trump's Jerusalem Declaration
Trump's Destructive Decision on US Embassy move
In November 2017 Trump Administration officials threatened to close the Palestinian consulate in Washington, DC. This threat was based variously on Trump claims that Palestinians needed to get 'serious' on peace talks with Israel and his administration's objections to Palestinian plans to ask the International Criminal Court to investigate human rights violations by Israel in the occupied territories.
Trump's declaration on Jerusalem commits the U.S. to spend hundreds of millions of dollars to erect a new embassy in that city to replace the current U.S. embassy in Tel Aviv.
The same President Trump who is ready to expend massive federal funds for a new U.S. embassy in Jerusalem has proposed gutting federal funding to improve housing and dilapidated communities for America's poor.
Trump's federal budget proposals call for eliminating the $3-billion Community Development Block Grant program. That program benefits low and moderate income communities with economic development and infrastructure upgrades. America provides Israel with $3-billion in military aid annually plus other financial assistance.
Trump's budget plans propose elimination of the $950-million HOME program that funds affordable housing for low-income Americans. Trump's budget also plans reductions in already underfunded operating and capital monies for federally funded public housing.
Jan Smuts, unlike Trump, is little known today outside of South Africa.
Interestingly, in South Africa, there is a movement to remove statues of Smuts and other prominent proponents of apartheid similar to movements in America for the removal of Confederate statues. Trump is a vocal opponent of removing Confederate statues/monuments.
A statue of Smuts is one of the 11 statues on the square across from the Parliament building in London. Famed former British Prime Minister Winston Churchill pushed for that Smuts statue. There is a statue of Churchill in that square and statues of two of South Africa's most famous equal rights activists: Nelson Mandela and Mahatma Gandhi.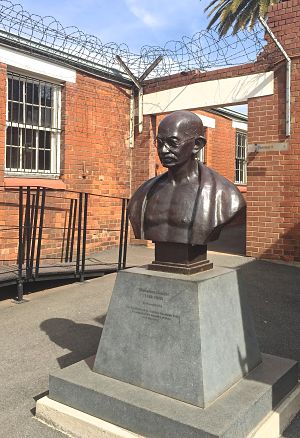 Bust of Gandhi inside Old Fort prison museum in Johannesburg, SA. LBWPhoto

Gandhi lived for a while in South Africa where he worked as a lawyer before his return to India in 1914. While in South Africa Gandhi fought for better treatment of that country's South Asian population. That activism led to Gandhi's incarceration in the same Old Fort prison in Johannesburg that later held Mandela.
Jan Smuts opposed Gandhi's equal rights activism and the equal rights efforts of the ANC that Mandela would lead.