The Shadow of Smuts on Trump's Jerusalem Declaration
Trump's Destructive Decision on US Embassy move
Before, during and after the time when Smuts worked with then British Foreign Secretary Arthur Balfour to set in motion a homeland for the Jewish people, Smuts worked to obliterate the homeland rights of South Africa's black majority.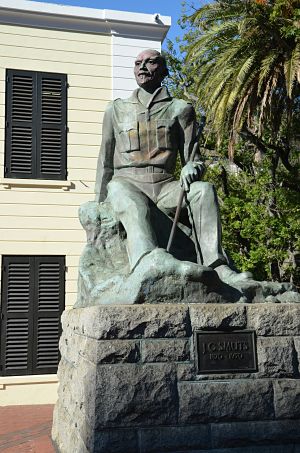 Statue of Jan Smuts in downtown Cape Town, SA stained by vandal's red paint. LBWPhoto

South Africa's 1913 Land Act, for example, forced blacks to live in reserves that occupied just 8.7 percent of that nation's land. Smuts backed the 1913 Act that confiscated land owned by black Africans and barred blacks from buying land in their homeland. Solomon Plaatje, a founding ANC member wrote upon implementation of the Land Act "…the South African native found himself not actually a slave, but a pariah in the land of his birth."
Smuts, during a 1917 speech in London, declared that South African governmental policy was to keep blacks apart "in our institutions, in land ownership and in many ways." The segregationist policies Smuts pursued in the early 20th Century laid the foundation for the system of apartheid that the South African government formally instituted in 1948. British and American governments backed South Africa's racist apartheid until the early 1990s.
Many critics worldwide of Trump's declaration on Jerusalem claim it will aggravate the apartheid-like existence of Palestinians in Israel, the Gaza Strip and on the occupied West Bank where Jerusalem is located. Some critics, for example, liken Israeli government restrictions on the movement of Palestinians in the West Bank and Jerusalem as similar to the movement restrictions apartheid once imposed on blacks in South Africa.
Israeli government settlements on the West Bank, that violate international law and UN Security Council resolutions, have pushed Palestinians into reserve like enclaves.
A UN Security Council resolution adopted in December 2016 condemned Israel's "construction and expansion" of settlements in all occupied territory including East Jerusalem. That 2016 resolution condemned "confiscation of land…and displacement of Palestinian civilians." That 2016 resolution reaffirmed ten previous anti-Israel-settlement resolutions that date from 1967.
Days before Trump's Jerusalem declaration an action related to Israel's settlements was referenced in court documents for the guilty plea entered by Trump's former National Security Advisor Michael Flynn regarding lying to the FBI.
Reports on those Flynn plea documents state that Trump's son-in-law and close advisor, Jared Kushner, ordered Flynn to lobby Russia's ambassador and other ambassadors to block passage of another UN resolution condemning the growth of Israel's illegal settlements. The U.N. Security Council approved that resolution.
Recent reportage also revealed the close relationship between Kushner, his family and Israeli Prime Minister Benjamin Netanyahu. The Kushner family has provided financial support for illegal settlements. Trump has designated Kushner as his point person to secure an Israeli-Palestinian peace settlement.