Meek Moment Triggers Demands for Justice Reform
But where are those supporters when ordinary folks are facing injustice?
Popular Hip Hop artist Rick Ross said, "This demonstration will speak for so many others. What happened to Mill is not just a miscarriage of justice. It is an abortion of justice." Ross stated that the Mill rally was his first participation in a public protest over justice system inequities.
Pennsylvania State Representative Jordan Harris noted how conservatives in the Pennsylvanbia state legislature want more mandatory minimum sentences "when we know mandatory minimums sentences don't work."
Philadelphian Mill, born Robert Williams, received the sentence from Common Pleas Court Judge Genece Brinkley who has presided over his case beginning with his 2008 drugs/gun conviction.
Brinkley had withheld incarceration for the chart-topping artist during prior parole violations, extending breaks to Mill that most in comparable circumstances do not get. Parole violators comprise one-third of the 47,318 inmates encarcerated in the state's prisons.
When Brinkley sentenced Mill to prison, she indicated her patience had run out with the rapper. Brinkley cited Mill's failed a drug test this year and his two arrests this year: one for a scuffle in the St. Louis airport and the other in New York City. NYPD arrested Mill for reckless endangerment after he posted a video of himself on social media doing wheelies on an ATV without a helmet in NYC.
While authorities withdrew charges for the St. Louis and NYC incidents, Brinkley considered each a parole violation. When Brinkley sentenced Mill to prison, she rejected recommendations from prosecutors and parole personnel for no jail time.
Mill's attorney, Joe Tacopina, blasted Judge Brinkley, calling her sentence a personal vendetta.
Tacopina asserts Brinkley attempted to have Mill record a song where he would mention her by name and Brinkley attempted to have Mill leaving his current manager, music mogul Jay Z and hire a personal friend of hers for the job instead.
Brinkley could not respond to the accusations leveled by Tacopina due to restrictions in the state's judicial code of conduct that bar judges from commenting on pending cases.
However, that conduct code instructs judges to conduct their personal and extrajudicial activities to minimize risking conflict with the obligations of judicial office.
Tacopina's allegations raise questions about Judge Brinkley's adherence to judicial conduct code requirements to avoid impropriety and the appearance of impropriety. Rule 1.3 of that code, for example, states a judge "shall not abuse the prestige of judicial office to advance the personal or economic interests of the judge or others, or allow others to do so."
The FBI is examining Judge Brinkley's actions in the Mill case according to media reports that the FBI neither confirms nor denies.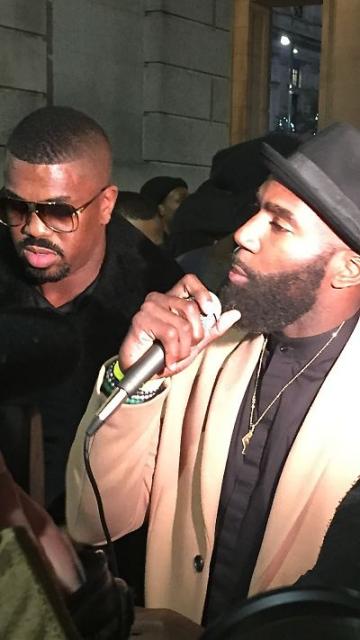 Eagles safety Malcolm Jenkins (mic) and rally organizer Sixx King (left). LBWPhoto