America's Heroes also Work in Fire Departments, Hospitals and Public Schools
Gen. Kelly needs to zip it
First of all, let's be honest: in today's American volunteer military, most soldiers don't sign up because of love of country, though some or even many of them may well love it. They sign up because they need a job, and maybe even envision a military career, they sign up to get trained for a future career outside the military, they sign up for the GI benefits that include paying for college. But the majority of them do not ever go into combat, or even want to go into combat. Many opt to go into the National Guard for that very reason. Eighty percent of the positions in the military are non-combat in nature, and even fewer than one in five in the military ever actually get close to a combat zone even when there is a major war on. Most people in uniform in today's modern military work in offices. Others work on bases as mechanics, drivers, clerks , etc.
Remember, a private in the US Army today earns $21,000 and a sergeant $27,000. That may not seem like a lot, though it's a damned sight better than the $15,500 someone pushing a broom or flipping burgers or working as a nurse's aide at minimum wage earns (before taxes) if they can manage to get a 40-hour week. And don't forget, the soldier living on a base and earning that money has no rent to pay, no food bills and no state and local taxes, no commuting costs and they get excellent health benefits for free. Even a corporal with three years' service who earns $27,778 and who lives off base doesn't do too badly when you add in a basic allowance for subsistence of $4419 and a basic allowance for housing of $7373, bringing total compensation to $39,570 — a princely sum for an unskilled worker. As for career military, consider that an Army MP with six years' service and the rank of Sergeant would earn, in basic wage and allowances, $57,600, according to the Army's own marketing literature, which compares favorably to the $47,912 an average cop with six years' experience could expect to earn.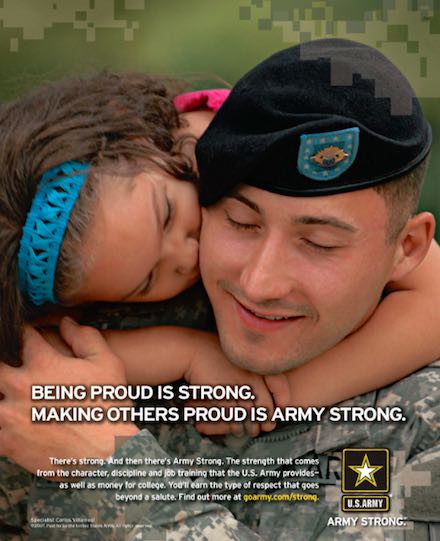 The Pentagon attracts recruits by promoting the military as a career choice with great perks and job training opportunities

I'm not saying some people don't sign up for the military simply to "serve their country," but let's not get all teary-eyed and see everyone in a uniform as a selfless patriot. The Pentagon is promoting enlistment by selling it as a good career choice, and it is one — and for most enlistees, a pretty safe one at that.
Let's compare that to volunteer firefighters who risk their lives to save people for free. Does Gen. Kelly really think that they, and paid firefighters too, don't rate right up there with his late son who died in combat, or any of the others of America's tens of thousands of casualties in America's post 9-11 wars?