Forced Anthem Adherence Antithetical To Justice
During Trump's tour of that museum, where he praised the "beautiful" tributes to "so many American heroes," he apparently did not absorb the import of those tributes. In that museum's sports section is an exhibit on Walker and other exhibits detailing black athletes who used their sports platforms to protest against race-based injustices in America. One exhibit is the 1968 Olympics protest by American sprinters Tommy Smith and John Carlos who stood on the winner's podium and raised their fists against institutional racism in the United States.
Smith and Carlos were viciously castigated for this protest – conducted months after the murder of Dr. Martin Luther King Jr. –- with critics calling them unpatriotic, faulting them for inappropriately injecting politics into sports. Yet a dozen years later, the U.S. boycotted an Olympics held in Moscow over a political tiff with the then USSR –- the host country.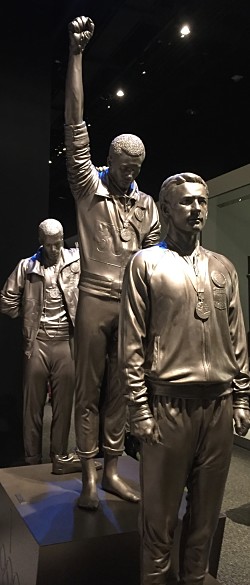 Legendary athletes/activists Tommy Smith (middle) and John Carlos (rear). LBWPhoto

In August 2016, when Colin Kaepernick, the now former pro-football quarterback, launched his protest against police brutality by not standing for the national anthem, he told a reporter that there were "bodies in the street and people getting paid leave and getting away with murder."
Kaepernicks's observation on failures of authorities to hold police officers accountable for unnecessary fatal shootings and the failures of those shootings to elicit wide public condemnation in many ways mirrors an observation about lynchings that Moses Walker made in his 1908 book Our Home Colony.
Walker, when assailing racist violence against blacks from lynchings to fatal shootings in his book, wrote that those "things have become so common as scarcely to excite more than passing comment."
Participants in lynch mobs, that often included police and prosecutors, were rarely arrested and less than one percent of those arrested were ever convicted.
When an interracial group of Americans sent a petition to the United Nations in 1951 condemning the racist policies/practices of the U.S. government as genocide against African-Americans, that document linked lynching and police brutality: "Once the classic method of lynching was the rope. Now it is the policeman's bullet."
President Trump's tarring of black pro-football players as unpatriotic for staging anti-injustice protests during the national anthem is a time-worn tactic where practitioners duplicitously extol patriotism while totally disregarding the dynamics of the racism that ravishes non-whites…a process Walker, noted in his book.
"The Negro has often been credited with possessing a strong patriotism; yet the treatment given him at the hands of his fellow citizens is designed ultimately to make him an enemy of government," Walker wrote.
"Persecution never rendered a people patriotic."