The Vietnam War As Public Spectacle
Bottom-up Collective Drama or Top-Down Atrocity?
Burns and Novick say their goal was "to comprehend the special dissonance that is the Vietnam War. ... We vowed to each other that we would avoid the limits of a binary political perspective and the shortcuts of conventional wisdom and superficial history." They refer to the war as a "Rashomon of equally plausible 'stories.' " Thus, the slogan they put on the movie poster: "There is no single truth in war." As I watched the first half of the epic unfold, I constantly mulled over the question whether it was true "there is no single truth" concerning the Vietnam War. For one, the slogan seems to contradict itself. I would submit there is a single truth concerning the Vietnam War: It's the fact the Vietnamese people never did anything against the powerful, imperial people who invaded and devastated their country for over a decade. Lately, I've challenge anyone to come up with anything hostile the Vietnamese, our WWII ally, did to us to deserve what we did to them. Self-defense doesn't count. This single truth is hard to dispute, even when it's swamped by an impressive melange of "intimate" cinematic stories set down in the weeds of war where killing is a self-reinforcing, circular nightmare. As many combat vets will tell you, once the firefight starts it's only about killing those who are trying to kill you and your comrades. There's the old truism, the first casualty of war is the truth. That, of course, is another single truth.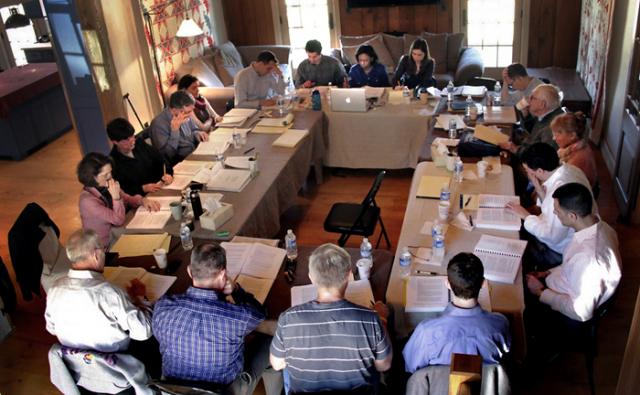 Burns and Novick (sitting together on the left) and their filmmaking team