Writing in No-Man's-Land
Me and The New York Times
For years, I've read The New York Times every morning over a couple of cups of coffee and a croissant or a banana. My cat Charlie often joins me on the back porch table; he's my untrained, unlicensed "service animal" who helps me understand the stories in The Times. The paper is reliably flung onto my driveway in the pre-dawn hours by a hard-working delivery person. I read lots of other things as well. I watch too much cable news, flipping back and forth between MSNBC and Fox. I have what can only be called a book fetish. Over the past 40 years, in my spare time, I've enjoyed haunting local thrift shops and used book stores. I like to browse through the shelves for that special book that some person chose to jettison from his or her life; or as is the case with lots of thrift shop stuff, someone's life slipped away and the survivors jettisoned a library. I buy books at a rate I can't read them, so I've gotten into the habit of only reading sections of books. I like to hold a book as I realize the author devoted years to researching and writing the thing. I learn something from every book I dip into. I stopped flogging myself for not finishing books when I read the Nobel Prize winning short story writer Alice Munro confidently say she rarely finished a book; she didn't have the time.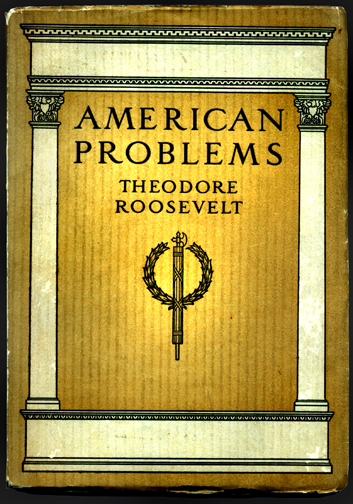 Teddy Roosevelt on how to manage the world in 1910
My rarest find is a 1910 paperback pamphlet on very fine paper I got for 10 cents at the Salvation Army thrift shop; it's a collection of essays by Teddy Roosevelt called American Problems. It includes essays like "The Management of Small States Which are Unable to Manage Themselves." That's certainly been one of America's biggest problems, especially afterwards when our "management" tends to come around and bite us in the ass. (Think George W. Bush's "management" of Iraq and ISIS.) One could argue America's current terrorism "problem" is a case of Rooseveltian imperial management over the decades coming around to bite us in the ass. On the cover of American Problems, there's a beautifully drawn fasces, the battle-axe surrounded by sticks carried at the head of a Roman magistrate's entourage. A decade or so after Teddy's pamphlet, Benito Mussolini took the Latin term and coined the word fascism.
Over the years I've bought most of my wardrobe at thrift shops, where one can find amazing clothes. (I have a beautiful Donald J. Trump Signature Collection white dress shirt I got for three bucks. It was made in Bangladesh.) Thrift shop clothes (and books) tend to be out of fashion, which means I find lots of books on radical themes popular in the Sixties before everything went south with Ronald Reagan. I see committed thrift shop shopping as a "conservative" trait. Newness is overrated. Plus, it's politically and socially good to re-use and re-purpose what already exists. I try to live by the old adage, Think Globally, Act Locally. I hate exercise, so I dedicate myself to making and tending raised gardens of vegetables and to maintaining the house and quarter acre my wife and I live on. Good physical work is the best exercise.