Writing in No-Man's-Land
Me and The New York Times

The attitude of the great poets is to cheer up slaves and horrify despots
        -Walt Whitman

To comfort the afflicted and to afflict the comfortable
        -Traditional adage of journalistic purpose

These days, adjusting to Donald J. Trump as "leader of the free world," I find myself defending The New York Times almost on a daily basis. I tend to do this online on left-leaning lists I wade into and respond to. I just turned 70 and am becoming a rather dialogic-oriented person in my golden years. I've worked as a dirty-fingernail reporter on several newspapers. I've written non-fiction and fiction, a distinction that more and more blurs in my mind, as it is blurred in places like Eastern Europe; in Bosnia, for example, the terms simply do not exist. I've worked as a self-taught photographer. For over three years, from Philadelphia, I've co-hosted a chat radio show out of northeastern Kansas. My dialogic role on the show, called Radio Free Kansas, is to talk about the stories in that day's liberal northeastern rag, The New York Times.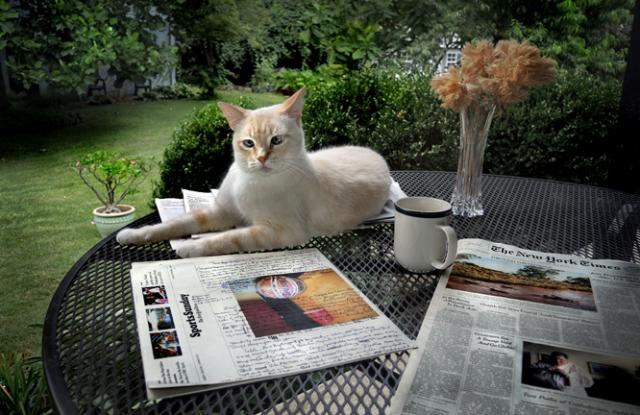 Charlie, The Times and the beginnings of this essay on the Times Sports section
The incredible explosion (there is no other word for it) of computer technology and social media has left me in the dust, willfully. I carry a flip cellphone with a cracked face; I don't use EZ-Pass (I'm afraid they may be tracking me!) or GPS devices (I really love maps!), and I rarely use Facebook or any other social media. I know I'm a human derelict of the past hanging on until the light goes out. I'm too often told I'm wrong by a bureaucratic computer that says something other than what I know is true. Sometimes, I feel like a white haired, stringy-bearded ancient left by the trail wrapped in a blanket as my tribe moves on to the next happy hunting ground. Nowadays, when they leave you alone by the trail to die they leave you with an i-phone: "Here. Keep in touch on Twitter."