Two Men Who Made Their Mark On History
Githuka, who moved to Soweto in 1994, was born in the East African country of Kenya. He spent many of his early years living in a concentration camp in Kenya, that was set up Kenya's then colonial ruler – Great Britain. The British created the concentration camps as part of their efforts to crush the anti-colonial uprising by the Kenyan Mau Mau. (Britain also used concentration camps to crush an uprising of white farmers in its then colony of South Africa at the beginning of the 20th Century.)
Githuka obtained his undergraduate and graduate degrees from universities in America, undergrad in Tennessee and a Masters in Michigan. His studies specialized in African-American History. Those educational experiences, in a small town and urban area respectively, exposed him to the realities of racism America-style and influences of African-Americans.
Like Githuka, Darcus Howe grew up under British colonial rule, albeit on the Caribbean Island of Trinidad. His uncle was the acclaimed activist-author-scholar C.L.R. James.
Howe came to London initially to study law. But the sweep of structural racism in England soured him on a legal career path turning him to activism and later journalism. His professional endeavors included being a publisher and broadcaster.
Through his activities Howe met pivotal African-Americans like Dr. Martin Luther King Jr, Malcolm X and fellow Trinidadian Stokely Carmichael, the activist credited with popularizing the phrase Black Power in the United States.
Darcus Howe, an original member of Britain's Black Panther Party, became a prominent figure in England in 1970 as a member of the Mangrove Nine. The Nine were black activists slapped with riot and other charges by London police in what historians say was an attempt by police to crush Britain's Black Power Movement by imprisoning its perceived leaders.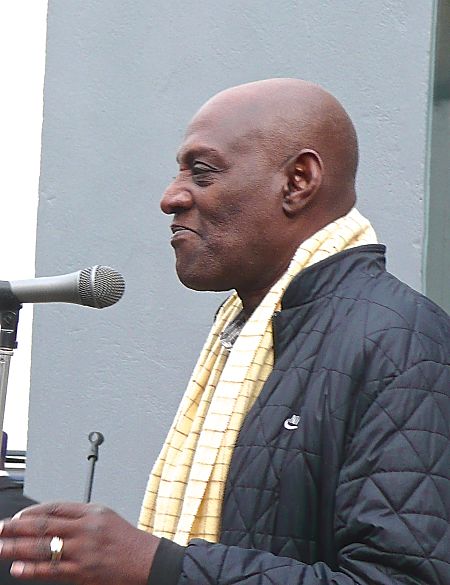 Darcus Howe speaks at 2011 event placing historic marker at the Mangrove Restaurant site. LBWPhoto
This pivotal criminal case arose from repeated police raids on the Mangrove Restaurant located in London's Notting Hill section. The Mangrove was a cultural hub for the Caribbean community, owned by Frank Crichlow. London police perceived the Mangrove as a locus for anti-police-brutality activities. A demonstration outside a police station in Notting Hill protesting police brutality and repeated police raids on the Mangrove sparked a clash.
While neither Howe nor Crichlow participated in that police station protest, authorities arrested them and seven other black activists. Their trial led to a pivotal victory: acquittals on the serious riot charges and a historic finding by the trial judge – that racism infected London's police force. British authorities, stung by the judicial finding of police racism, unsuccessfully pressured that judge to reverse his ruling.