As his Last Act in Office, President Obama Should Right a Terrible Wrong and Free Leonard Peltier
Demand clemency NOW! Time's running out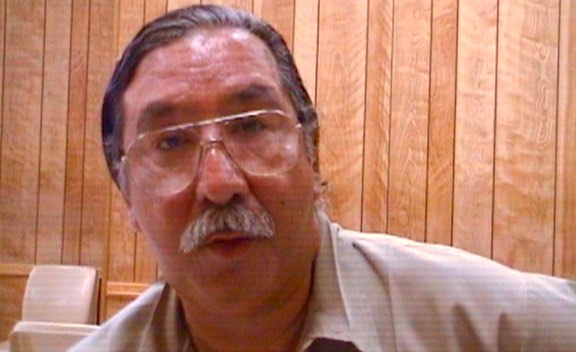 Leonard Peltier, Native American political prisoner for 40 years and counting

UPDATE: To his eternal shame, a gutless President Obama, who himself has cold-bloodedly murdered hundreds, perhaps thousands, of innocent men, women and children in drone Hellfire missile attacks he has personally ordered, allegedly to kill targeted "terrorists," refused calls to grant clemency to Native American activist Leonard Peltier, who has been jailed for 40 years on two life sentences, not for killing anyone, but for being on the scene (an "abetter" in legal parlance) when two FBI agents were shot dead during a '75 shootout on the Pine Ridge Sioux Reservation in South Dakota. Although a lead US attorney and prosecutor in that case, James Reynolds, appealed to the president saying that justice called for clemency in Peltier's case since he'd never been shown to have been involved in those shootings, and since, even if he had, abetters to such crimes have rarely served as much time as Peltier has already), Obama sat on his hands, and left office today abandoning Peltier to die in prison. What a legacy of cowardice he leaves behind in the smoking wreckage of his two terms!

If, as reported in the Washington Post, President Obama decided to grant clemency to military whistleblower Chelsea Manning because he felt that the 35-year sentence handed down by a military judge was "nuts," then what does he think of the life sentence that Native American activist Leonard Peltier is serving?
Yesterday evening, the US Justice Department announced that a clemency petition from Peltier's attorney Martin Garbus addressed to the president had been denied. In cold language, the letter read: "The application for commutation of sentence of your client, Mr. Leonard Peltier, was carefully considered in this Department and the White House, and the decision was reached that favorable action is not warranted."
Peltier, an American Indian Movement activist, is serving two life terms after having been convicted in 1977 at a trial that critics say included false statements by federal witnesses, false affidavits, coerced testimony and the withholding of ballistics evidence that could have thrown doubt on the prosecution's case.
For a good account of the history of his case, and an explanation for why he should unquestionably be released by the president, read this impassioned article by Native American writer Kelly Hayes.
Federal prosecutors at trial conceded that they could not prove who shot two FBI agents on the Pine Ridge Reservation in 1975 during a shoot-out that also left a native American dead, but they insisted that Peltier had "aided and abetted" their shootings.