Liberal Dems Claiming a Russian Election Hack and Putin Control Over Trump are the New 'Birthers'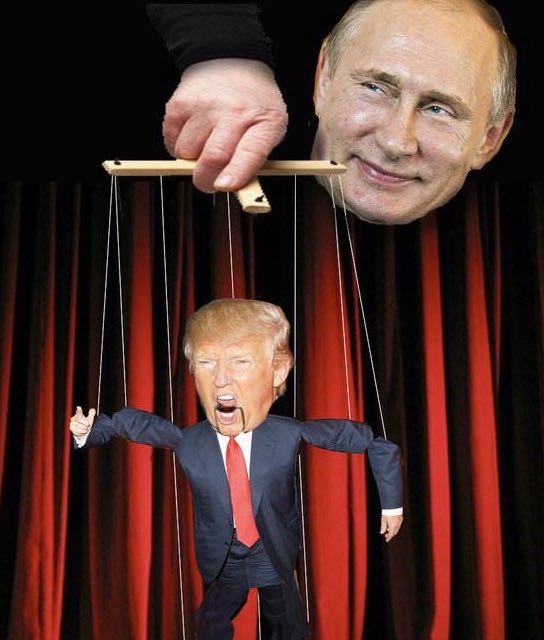 The widespread belief among liberal Dems that Trump is a Putin puppet resembles the Republican's 'birther' mania about Obama

Yes, there has been a 70-year consistent policy of hostility towards Russia, not to mention unremitting anti-Russian propaganda in the US, as Roberts says, but that's because foreign policy in the US has been in the grip of a Republican-Democrat bi-partisan consensus that argues that the US must work to maintain absolute military superiority over all real and potential rivals, forever. And that consensus views Russia as a major potential threat to that superiority.
That's why we have a military budget of $600 billion, nearly three times as much China ($215 billion, much of that for domestic control purposes), another country that poses no threat to the US, and as all the rest of the world spends, while Russia's budget is just 11 percent of that amount at $66 billion, ranking it behind third-ranked Saudi Arabia ($87 billion).
While Obama Defense Secretary Ashton Carter and others in the Washington elite maintain that Russia poses an "existential threat" to the US, presumably because of the number of nuclear missiles it maintains, it's important to note that Russia has those missiles because the US has a similar number, most of them pointed at Russia--the main difference being that the US has many of its nuclear-tipped missiles located just minutes away from Russia at sites in Eastern Europe, while Russia's nukes are all on its own territory, thousands of miles and at least a half-hour's flight away from the US mainland -- a difference that means one country, the US, has the ability to launch a first strike and take out the other country's ability to respond to an attack, while the other has no ability to make such a first-strike threat.
This is all by way of getting to a larger point. The hysteria about Russian hacking of the US election -- an action which while it might have happened, is by no means proven -- is a meaningless diversion, because there is no evidence at all that Russia is an aggressive nation. While the US is moving Abrams battle tanks and nuclear-capable mobil artillery up close to the Russian border in the waning days of the Obama administration, forcing Russia to respond by beefing up its own national border defenses, no one could argue seriously that Russia and its leader Vladimir Putin, have any interest whatsoever in invading any country of Europe, however small and weak.
What possible advantage could come to Russia from such an action? Even if Russia could succeed in invading Poland and grabbing a piece of that country, or invading one of the Baltic countries that were former Soviets, such an action would make developing trade relations with the rest of Europe impossible, and would force Russia to engage in a costly occupation which it can ill afford.