Is the Pentagon Behind the Washington Post's McCarthyite Hit on independent Alternative Journalism?
Smeared and Russia-bated in a 'false news' attack by one of America's leading papers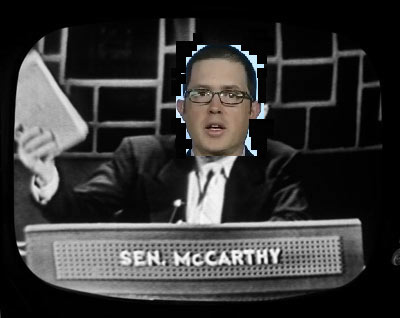 Like Sen. Joe McCarthy over half a century ago, reporter Craig Timberg and the Washington Post "have a list" of subversives

In fact, the first of these sources, the Foreign Policy Research Institute (FPRI), turns out to be a hoary relic of the Cold War founded in 1955 by Robert Strausz-Hupé, an Austrian emigré and passionate anti-Communist. It has continued its anti-Russian propaganda stance since the collapse of the Soviet Union and the 2002 death of its founder and now boasts on its board of trustees jailbait like former Reagan National Security Advisor Robert McFarlane, a key player in the Reagan-era Iran Contra scandal who pleaded guilty to four counts of lying to Congress but was pardoned by President Reagan, arch-neocon and Russia-phobe Robert Kagan, a key promoter of the the US invasion or Iraq in 2003, and a whole host of other right-wing anti-Russian fanatics.
At least FRPI is willing to let people know who it is and who is running the joint. In contrast, the other of Timberg's sources, PropOrNot, an organization with a website, PropOrNot.com, founded only several months ago, remains totally secret, providing no information on its site about its origins, its funding, its leadership or its staff. And yet Timberg confidently claims its information about Russia's alleged epic propaganda effort was the result of the painstaking analytical work of these "experts." In fact Timberg says the organization's executive director, whom he quotes, asked for and received anonymity along with all his staff because they wanted to "avoid being targeted by Russia's legions of skilled hackers."
And the Post's editors allow him to get away with this gutlessness and lack of transparency.
To get the full picture of how credulous and unprofessional -- or willfully biased -- Timberg's editors at the Washington Post (often still considered one of the nation's top "newspapers of record"), were in not vetting his article, read the Intercept's article Washington Post Disgracefully Promotes a McCarthyite Blacklist from a New, Hidden and Very Shady Group, which devastatingly eviscerates both PropOrNot and the Post.