Christie and Trump: Two G-O-Ps in a Rotten Pod
For a quick glimpse of life within a "Trump Nation" look no further than New Jersey, the east coast state led by Trump booster Gov. Chris Christie, the man who heads the transition team assembling top personnel for the administration of a possible President Donald Trump.
A snapshot of Christie's ruinous reign as governor since taking the helm of the Garden State in 2010 is found in the headline of an editorial published in mid-September by New Jersey's largest daily newspaper, the Newark Star Ledger:
"Chris Christie's state is an economic cripple."
Christie has practiced the economic policies that Trump has promised to pursue: massive tax cuts for corporations plus tax breaks for wealthy individuals.
"What tax cuts have surely given us is a big revenue hole – with no real economic boost to show for it," that Star Ledger editorial noted.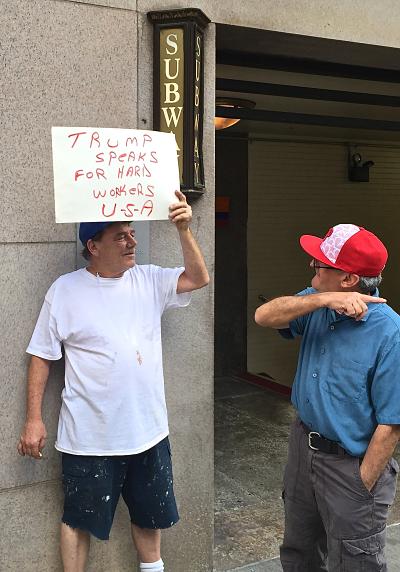 Trump will improve their lot? Not! LBW Photo

Christie push $2-billion in business tax reductions through the Democrat-dominated legislature and opposed modest tax increases on the wealthy.
"In short, the magical thinking that Gov. Chris Christie has relied on to steer the economy is simply not working. Like many Republicans, he clings to the notion that lower taxes are the key to economic growth, despite all the hard evidence to the contrary," that editorial declared.
Like Trump's current campaign trail promises for America, gubernatorial candidate Christie pledged to get New Jersey's fiscal house in order – a pledge he failed to deliver.
However, Christie did deliver an array of 'benefits' to wealthy corporations and individuals, benefits that certainly aggravated New Jersey's fiscal disarray.
Consider what happened with ExxonMobil, one of the world's richest corporations. New Jersey authorities calculated that massive pollution by the ExxonMobil Corporation required payment of $8.9-billion.
But the Christie Administration offered ExxonMobil a sweetheart settlement of just $225-million. After shortchanging his state's coffers, Christie did not devote that entire settlement to environmental cleanup of the 1,500 impacted acres that a New York Times editorial termed a "toxic wasteland."
And then there's Donald Trump.
Trump's casino operations in Atlantic City had amassed an unpaid state tax bill of nearly $30-million. Yet Christie, a year after he become governor, settled that Trump casino overdue bill for a mere $5-million.
During Christie's tenure New Jersey has achieved a number of dubious distinctions beyond increases in income inequality and poverty.
New Jersey now leads the nation in the number of millennials living with their parents due to Jersey's high cost of living and low wages.
The credit rating for the State of New Jersey has sustained nine downgrades during Christie's tenure. Trump, who uses bankruptcy as a standard business practice, has said a default on the federal government's debt may not be bad, ignoring the catastrophic impact such an event would have on economies around the world.