Don-The-Con's Record of Discrimination Undermines His Outreach to Blacks
The other Big Story from the recent press conference Donald Trump held at his new luxury hotel in Washington DC was not related to what Trump said about the bigoted "Birther" issue that Trump exploited for years to burnish his brand as a political player.
That other Big Story, missed by the news media, was what Trump did not say about his professed outreach to African-Americans -- those tagged by Trump as "The Blacks."
During that press conference where Trump blithely backed away, sort of, from the 'Birther' claim that President Obama was not born in America, Trump did not use that occasion to brag about the benefits black construction companies and black workers obtained from his $200-million luxury hotel project.
A Trump announcement that detailed how black businesses and workers benefited from his luxury hotel project could have boosted Trump's recent campaign claims that he cares about "The Blacks."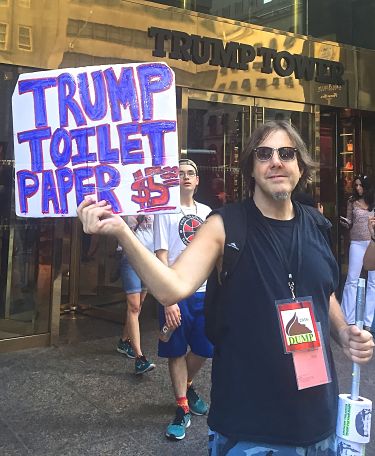 Protestor outside of Trump Tower in New York City with item to handle dung spread by The Donald. LBW Photo

However, self-described billionaire businessman Trump's historic record of failing to do business with black businesses undermined even this serial false-claim-maker from falsely proclaiming blacks received benefits from the renovation project that produced Trump's latest luxury hotel.
The fact that the Washington, DC area is home to large numbers of qualified black construction companies and black construction workers did not prompt news media inquiries about the paucity of blacks involved with Trump's multi-million dollar hotel project typified news media failings on issues involving race/racism.
Trump's alleged outreach to African-Americans is yet another example of the charade that parades as Trump's presidential campaign. This charade gains traction by shallow and unquestioning coverage in mainstream news media. The same news media that have dutifully extended coverage to Trump's belated claims that he dislikes high unemployment rates among minorities did not question the literal Black-Out on Trump's hotel project.
Proof of this charade was provided – again – when Trump brought his "I Love My Blacks" tour through Philadelphia recently, where that tour radiated the Republican Party's signature faux outreach to black voters exhibited during presidential election campaigns.
Although Trump proclaimed that the handful of handpicked blacks he met with at that private meeting in Philadelphia were "Black Leaders," none are widely recognized leaders in Philadelphia's black community. Further, that private meeting held in a black owned facility on the edge of the predominately black North Philadelphia excluded that city's black owned news media.