Philadelphia District Attorney Hammered for Hypocrisy
Even in politics, where alarming perversions too often parade as acceptable standards, it is pretty astounding for a politician to assert that inadvertent error is the reason for his failure to report receipt of gifts and other free items valued at $160,050 over a five-year period.
Yet, that is the stance Philadelphia District Attorney Seth Williams is taking after he recently filed belated annual financial disclosure forms listing nearly ninety items he received, including luxury vacations, cash, gift cards, tickets to professional sporting events and a Rolex watch that Williams valued at $6,500.
This oops-I-forgot-to-file-the-required-forms claim comes from a man who once served as Philadelphia's Inspector General, a post tasked with pursuing unethical conduct and corruption. Williams clearly knew he was required to complete those disclosure forms listing all gifts he received on an annual basis.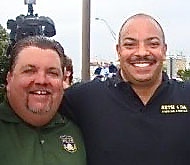 DA Seth Williams (r) with Philly police union president

The FBI and other federal enforcement authorities are now examining Williams' receipt of those gifts plus allegations about misuse of his campaign funds and irregularities at a non-profit organization created by Williams, a Democrat. Federal probes of Williams' activities began months before his belated ethics disclosure filings.
Williams, elected as Philadelphia's first African-American District Attorney in November 2009, entered office enjoying high public support. Most Philadelphians expected he would fulfill his campaign promises to end the unjust practices of his predecessor Lynn Abraham, who was an ardent death penalty advocate who virtually ignored abuses by police ranging from perjury to brutality.
However Williams, while he did initiate some applauded reforms, squandered his political capital and personal image by fighting to sustain wrongful convictions made by his predecessors (including wrongful death penalty convictions), by failing to vigorously fight police abuses and by supporting staff members exposed in the 'Porngate' email scandal involving exchanges of sexist/racist/homophobic emails between judges and prosecutors in Pennsylvania.
A prime example of Williams' continuing the persecution practices of that predecessor he had castigated as a candidate is the recent acquittal of Anthony Wright, a Philadelphia man who spent 25-years of a life-time sentence in prison for a rape-murder he did not commit.
The Innocence Project fought Williams' DA predecessor Abraham for five years to obtain DNA testing of the evidence that had put Wright in prison. When that DNA testing was finally permitted by an order from the state's Supreme Court, and it proved Wright innocent, instead of asking for Wright to be released from prison, Williams opposed Wright's release. Williams position of insisting that Wright face a new trial in front of a new jury was taken despite documentation by Innocence Project investigators that police had fabricated evidence and used it against Wright at the original trial.