I'm with Jill Stein!
No crooked sociopaths in the White House
Philadelphia -- Dr. Jill Stein, the presumptive presidential nominee of the Green Party, which holds its own nominating convention next week, Aug. 4-6, in Houston, had it right when earlier this year she offered to step aside and let Bernie Sanders, after failing to win the Democratic nomination, come in and head the Green Party ticket, running against Clinton and Trump in the general election.
Had Sanders taken her up on her surprising offer, instead of bowing to the corrupt powers that be in the Democratic National Committee and the oligarchic corporations that are backing Hillary Clinton, and ultimately endorsing Clinton, he could well have outpolled both Clinton and Trump and ended up winning the presidency as a Green partisan. He had a chance, even if he didn't win, to upend the stifling Democratic/Republican duopoly that has been crushing progressive movements and gutting what's left of New Deal and Great Society programs for generations, and to create the foundation for a new politics in the US -- to give American voters a true choice finally between one or two sclerotic pro-capitalist parties, and, at long last, a genuine people's party.
Instead of that Hail Mary, Sanders decided to forfeit the game.
Some of his nearly 1900 pledged delegates, either after Tuesday's roll call voting or on Thursday, when Clinton is nominated as the Democratic Party's presidential candidate, will likely stage a walk-out from the Convention Center. Hopefully they, and hundreds of thousands of Sanders activists or the millions of Sanders backers who voted for him in the primaries, or who supported his campaign but were barred from voting in the many closed primaries and caucuses, will decide to walk right into the welcoming arms of the Green Party. (See Wednesday's story above, about how 750 of Sander' delegates walked out Tuesday evening).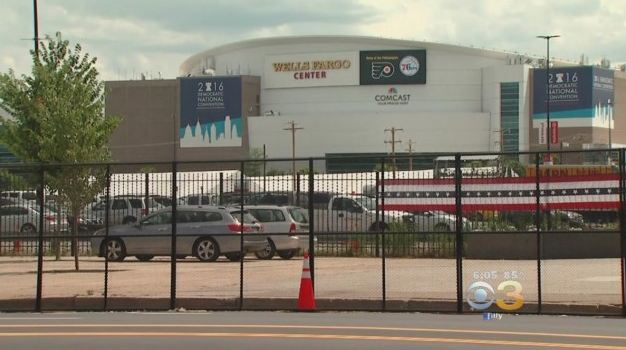 Forget Trump's wall. Hillary and the DNC, fearing protesters, had a 4-mile fence erected around the convention center, creating an exclusionary 'Green Zone' for party honchos and delegates.