Islamophobia on the Rise in England
Fanning fears during London's mayoral election
During a casual conversation inside a store on a swanky shopping street located a short distance from London's fabled Kensington Palace a twenty-something retail clerk said she feels a strange sense of discomfort that she's never felt before in London, the city where this native of Algeria has lived most of her life.
She traces this alienating discomfort to the sharp increase in Islamophobia.
Islamophobia is generally defined as dislike of or prejudice against Islam or Muslims.
This London resident is an identifiable target for Islamophobia because she wears a modest headscarf that is traditional in her culture and religion - Islam. (She does not wear a full-face covering burka.)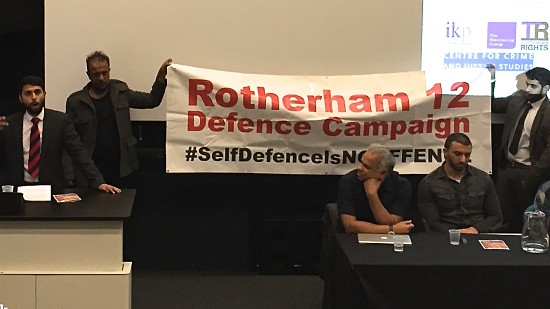 Vakas Hussain (far left). Seated center Suresh Grover of The Monitoring Group and Rotherham 12 defendant Abar Javid. LBW Photo

For her and others, Islamophobia ranges from disdainful stares and caustic comments to physical assaults. A few assaults have ended in fatalities. And then there are British government policies like 'Prevent' – the professed counter-terrorism program that seemingly is targeted solely at Muslims. Prevent enlists citizens to report actions and attitudes deemed suspicious.
The Muslim community in Britain "has been targeted against the backdrop of hostility buttressed by the War on Terror," stated a report issued by the London-based Institute of Race Relations in 2013. This report warned that racial violence across Britain is not "something consigned to history" citing police force statistics from 2011/2012 documenting over 100 racially or religiously aggravated crimes per day.
Islam is the second largest identified religion in Britain behind Christianity. Half of the twenty communities across Britain with the largest Muslim populations are located in London. Muslims comprised five percent of England's population with the majority having ancestral roots in Pakistan and Bangladesh not Arab countries.
Ugly Islamophobia ran rampant during the recent mayoral election in London that ended with the historic victory of Sadiq Khan, a London born lawyer and liberal Labour Party Member of Parliament who is now the first Muslim to head any major Western capital.
Top members of Britain's ruling Conservative Party, including Prime Minister David Cameron, along with minions in the news media, pointedly painted Khan as a person who eagerly embraced Islamic extremism despite Khan's record of condemning extremism. Khan, during that mayoral campaign, tacked increasingly rightward in advocating militarized responses to terrorism.