The Story about Democratic Convention Pledged Delegates that Nobody Talks About
Clinton's only ahead of Sanders thanks to 6 Deep South states irrelevant in November
The strategy worked marvelously in prior years and this year for Clinton. Remember, in late February and early March Sanders was largely unknown outside of New England. The Democratic party is marginalized in the by now uniformly Republican-run Deep South, and black voters are disproportionately its backers -- people who understandably view it as critical to their survival to keep Republicans from also controlling the federal government. And even among those few black voters who knew of Sanders and of his strong history of Civil Rights Movement activism and of his consistent support for minority issues and for the nation's poor as a member of Congress, he was deemed at primary time to be a long shot to win in any general election. Clinton was thus the overwhelming victor in those early primaries, particularly among black voters. In fact, just between Feb. 27 (South Carolina) and March 8 (Mississippi), she picked up 378 more delegates than Sanders, largely because of the fiction promoted by her campaign and touted in the corporate media that she would be "more electable" than Sanders in the general election.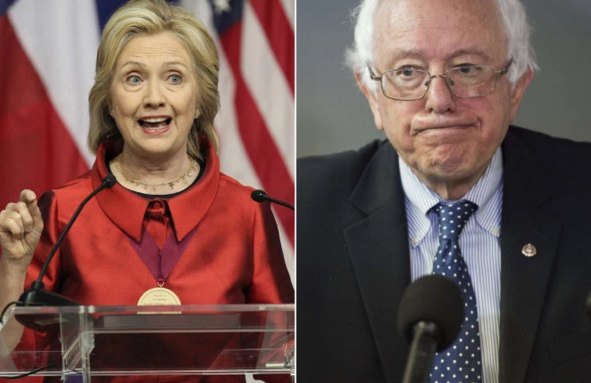 Clinton is ahead in pledged delegates but the truth is she's been losing ground to Sanders since after May 8

Get that? 378 extra delegates in just over a week early in the primary season, and Clinton has been riding on that cushion ever since, though it has already shrunk by almost half as Sanders has won primary after primary since then.
It may be that the strategy of front-loading states in the deep south (South Carolina, Alabama, Georgia, Louisiana, Texas and Mississippi) will work to deny Sanders a majority of pledged delegates going into the Democratic Convention in Philadelphia this July, but that overlooks the unexpected reality that his popularity among Democratic and independent voters has continued to surge dramatically over the intervening months, while Clinton's has plummeted. In the latest polls, Sanders has emerged as the most popular candidate not just among Democrats, but among all registered voters, with the highest positive ratings and the lowest negative ratings. Clinton meanwhile, has higher negative approval than positive, putting her close to Trump and Cruz in terms of popularity.
Certainly the Superdelegates, if they want the Democrats to win the election this November, and to have a shot at winning back at least the Senate, need to consider that reality. Imagine if California, with its 475 pledged delegate total, were to go for Sanders on June 7, scarcely a month before the Convention, and then Clinton were to win the nomination? It would spell disaster! What if Sanders were to win the pledged delegates oveall, but Superdelegate votes were to hand her the nomination. Even worse disaster!