Shine the Light of Truth on Poor Honduras
Hillary Clinton's dark role in the 2009 coup and its bloody aftermath
Since the coup, Honduras has become one of the most dangerous places in the world.
                                                                                - Amy Goodman

Since a June 2009 coup in Honduras, violence beneficial to rightist power brokers and international corporations -- violence directed against activists for the poor and indigenous -- has skyrocketed. News of this rarely reaches mainstream America. The real story is that the US government, as in the past, talks pretty but is an accessory in Honduras' descent into murder.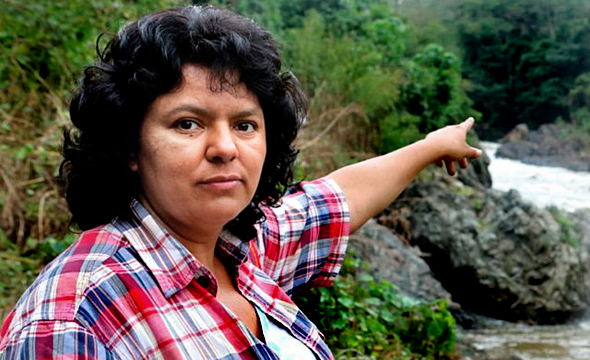 Murder victim Berta Caceres, co-founder of COPINH, fought for the rights of the poor. Click hereto hear John Grant and PRN.fm 'This Can't Be Happening!' show host Dave Lindorff discuss Clinton's role in the Honduran coup and Caceres's murder.
On March 3rd, Berta Caceres, 44, co-founder of COPINH (the Civic Council of Popular and Indigenous Organizations of Honduras) and winner of the Goldman Environmental Prize, was assassinated by killers who broke into her home in La Esperanza (in English, Hope) at 1AM. Gustavo Castro Soto, a Mexican environmental activist who witnessed the murder and was himself shot twice, has been refused permission to return to Mexico and is hiding out in the Mexican embassy in Tegucigalpa. The financial officer of COPINH has been interrogated four times at length by police; she told Amy Goodman it's an effort to suggest the murder was due to internal COPINH politics. A COPINH member was briefly arrested by the police as a suspect, then released. Then, another COPINH activist, Nelson García, was killed last week. Police say Garcia's killing was an "isolated" act.
"Hundreds of activists have been killed. It's just a nightmare in Honduras," says Greg Grandin, a history professor at New York University, referring to the period since the 2009 coup. "The NGO Global Witness declared Honduras the 'worst country to be an ecologist,' having 'a climate of near total impunity' that contributed to the killing of 109 environmental activists between 2010 and 2015, the highest per capita rate in the world," says Andrea Lobo, one of many out-of-the-mainstream observers of Honduras' decent into oppressive violence. (See Amy Goodman and Democracy Now for more on the story.)