Signs of Desperation in Hillary Camp as Bernie Looks Increasingly Likely to Win in Iowa and New Hampshire
Clinton campaign goes nuclear with red-baiting campaign against Sanders
Someone should have warned tHillary Clinton and the goon squad at the Democratic National Committee that old-fashioned red-baiting isn't going to cut it in today's United States. It's not the 1950s anymore and the Soviet Union and Comtern are ancient history.
With the latest batch of polls showing Bernie Sanders, in the wake of his feisty showing in Sunday's debate against Clinton in Charleston, SC, gaining on her in both early primary states of Iowa and New Hampshire, and nationally, the Clinton campaign and the leadership in the Democratic Party seem to have lost both their minds and whatever principles they may have had.
According to one poll, by CNN/WMUR, conducted just days after the debate, Sanders is now ahead of Clinton in New Hampshire by a blow-out 60% to 33%. That's nearly triple the margin the prior CNN/WMUR poll found in December when the numbers were Sanders 50% and Clinton 40%.
Meanwhile, the latest CNN/ORC Iowa poll, just released Friday, shows Sanders leading Clinton among likely caucus-goers in that state by 8 percentage points 51% to 43%. That is a big turnaround from the same poll done in December, which showed Clinton ahead 54% to 36% for Sanders. Even if there are other polls showing Clinton still marginally ahead in Iowa, the trend has been clear of voters moving from Clinton to Sanders, especially over the past two weeks.
Hence the Clinton campaign's panicky response, which has been to start having surrogates go out and paint Sanders as a "red."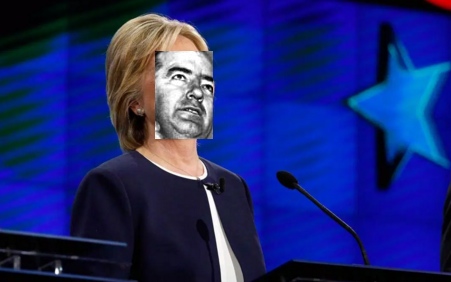 Her campaign in trouble in Iowa and New Hampshire, and her poll numbers falling nationally, Hillary has turned to Sen. McCarthy for inspiration (Joe, not Gene)

They don't actually call him a commie, but they do the next closest thing, warning that if Sanders were to win the Democratic nomination, he would then be attacked by whoever is the Republican nominee, who would "surely" call him a communist.
How, actually, does this differ from Hillary herself just calling him a commie? Well, it doesn't. Her campaign is calling him a red.
This attempted McCarthyite hatchet job on Sanders was launched in an article in the obligingly complicit New York Times, which on Wednesday ran a one-sided hit piece headlined: "Alarmed Clinton Supporters Begin Focusing on Sanders's Socialist Edge."
In that article, we read the likes of Missouri Gov. Jay Nixon, saying of Sanders, "Here in the heartland, we like our politicians in the mainstream, and he is not -- he's a socialist. He's entitled to his positions, and it's a big-tent party, but as far as having him at the top of the ticket, it would be a meltdown all the way down the ballot."
Then there 's Sen. Claire McCaskill of Missouri, a neoliberal Clinton supporter, who tells the Times, "The Republicans won't touch (Sanders) because they can't wait to run an ad with a hammer and sickle."