Police Brutality Unites Demonstrations In Paris and DC
Trans-Atlantic abuses and protests
Protests against rampant police brutality occurred recently in the respective capitals of France and the United States – two nations that proclaim strict fidelity to the rule of law yet two professed democracy-loving nations where officials routinely condone rampant lawlessness by law enforcers.
The 20th Anniversary of the 1995 Million Man March – captioned "Justice Or Else" – took place in Washington, DCk with a core complaint being police brutality. During that protest rally held outside the U.S. Capitol building and along the National Mall relatives of police brutality victims were invited speakers. Those relatives included the father of Michael Brown, killed in 2014 by a policeman in Ferguson, Missouri and a sister of Sandra Bland, who died in a Texas police station this past summer following a flawed and brutal arrest for an alleged minor traffic violation.
On the same Saturday as the "Justice Or Else" rally in DC, protestors gathered outside the Gare de Nord train station in Paris to demonstrate against the death earlier this year of Amadou Koumé. That 33-year-old father of three died during an encounter with police at a bar in Paris when he was put in a choke-hold while being handcuffed. The Paris protestors demanded a judicial inquiry into the death of Koumé, rejecting what they contend has been a cover-up by police and prosecutors in Paris regarding his death.
While nearly 4,000-miles separate Washington, DC and Paris, the issue of police brutality connects the two capitals through a chain of similarities surrounding police brutality, for example the fact that the principle targets of police brutality in France and across America are persons of color.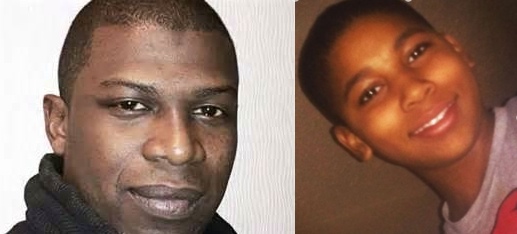 Trans-Atlantic Police Murders: Amadeu Koumé in Paris, France and Tamir Rice in the Cleveland, Ohio

A September 1998 Amnesty International report on human rights violations in America stated that racial and ethnic minorities were "disproportionally the victims of police misconduct including false arrests, harassment as well as verbal and physical abuse."
A 2005 Amnesty report on police brutality in France similarly faulted police for racist abuses and racist motivations. Amnesty's reports on police brutality in France have consistently noted that the primary victims of police abuses in that country are "foreign nationals," predominately from Africa and the Caribbean or are "French nationals" of foreign origin, principally from French colonial possessions or former possessions Africa and the Caribbean.
The day before those protest rallies in DC and Paris, National Basketball Association player Thabo Sefolosha won acquittal on charges of resisting arrest lodged by New York City Police officers who earlier this year broke Sefolosha's leg during his arrest. Sefolosha, a non-white who missed this year's NBA playoffs thanks to that broken leg, said comments by the white NYPD officers who arrested him near a nightclub convinced him of the racist motivation behind their assault.