Returning Home to the US is to Enter a Police State
What were you doing on your vacation?
A few weeks ago, I got a vivid comparative look at how far this country has moved towards becoming a police state. The occasion was a brief visit to Montreal, where my wife was to give a harpsichord recital at an early keyboard music conference.
At the Canadian border crossing, just above Lake Champlain, the Canadian official politely asked us our purpose in coming to Canada. Informed it was to perform harpsichord music at a music conference, he actually asked my wife what composers she was playing! (It was Gaspard le Roux) I tried to imagining even being asked such a question by an American border official and simply couldn't. The Canadian officer also asked us if were were bringing anything in with us. Told that we had a keyboard, he asked if we planned to sell it -- a fair question for a customs official. Then, assured we'd be bringing it back home with us, he waved us through with a smile.
On our way back into the US, we found ourselves being questioned by a grim-faced, beefy, cop-like guy, complete with sidearm, about where we'd been and what we'd done in Canada. Now this is getting draconian. We are both US citizens traveling back from home from a visit to a country that is about as close an ally to the US as a country can be. There is no reason why an immigration official, having looked at our passports, should be asking us about our activities while in Canada. Hell, I could have said I was attending a conference on promoting world socialist revolution, or a global meeting of some white supremacist organization. It wouldn't matter. He'd still have to grant us entry. I have every right to attend such political meetings in the US with impunity if I want to, and I have the same right as a US citizen to attend them abroad too.
The stupid thing, of course, about such questions, is that if I actually were doing something illegal -- say passing stolen state secrets to a spy connection in Canada, or meeting with some terrorist organization to plot a bombing in the US -- I certainly wouldn't offer that information to a border patrol officer.
So why would we be asked by a border patrol official to report what we had been doing in Canada?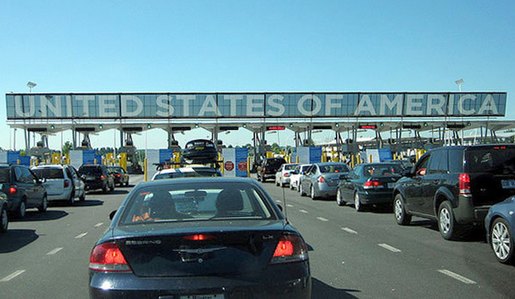 Lines of cars carrying US terrorists returning from training in Canada wait to cross the US border just south of Montreal, so they can head down to New York City. Luckily, alert border guards ask each driver what they did in Canada before letting them back into the country.