Killer Cops like North Charleston's Officer Slager Must Be Called to Account
Real-time photo evidence of a cop trying to plant evidence on his victim
The really damning evidence about the North Charleston police murder of a fleeing black man, Walter Scott, is not the image of him shooting Scott in the back, outrageous and murderous as that is (see screen grab image #1 from the phone video). It's what happens in the video next, from about 1:02 minutes into the recording until 1.37 minutes.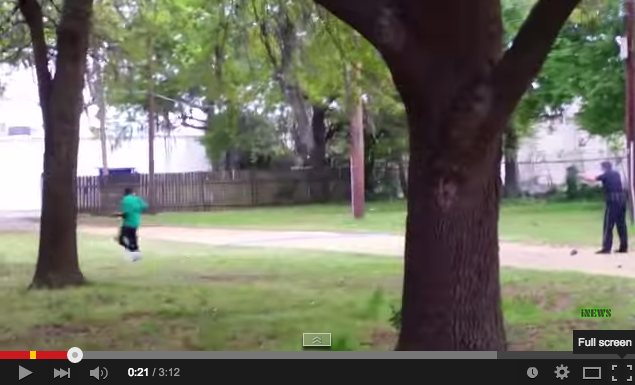 Officer Slater shooting the fleeing, unarmed Scott in the back multiple times (screen grab #1)

That's when we see Officer Michael Thomas Slager, who had just handcuffed the clearly dead or dying Scott, suddenly stand up and start running (see screen grab image two) back to the place where he had fired the eight shots from.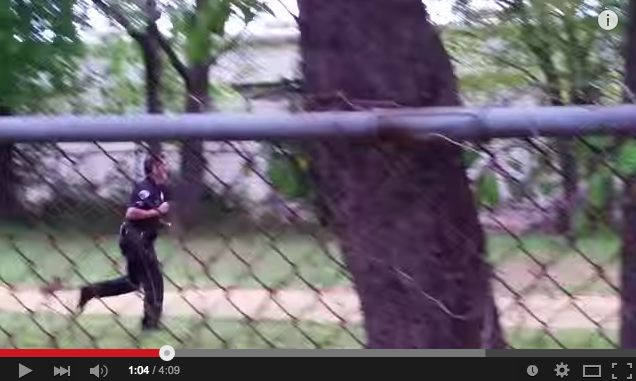 Officer Slater races back to where he had stood when shooting, to retrieve evidence to plant on Scott's body (screen grab #2)

Why, one might ask, would the officer, who had initially ambled leisurely over to his downed victim (see screen grab image #3), even taking time to scratch the back of his neck, suddenly race back to his initial shooting location? (Scott is already dead at this point, and Slager certainly didn't rush to the aid of his victim, when he had an obligation to see if he could render first aid.)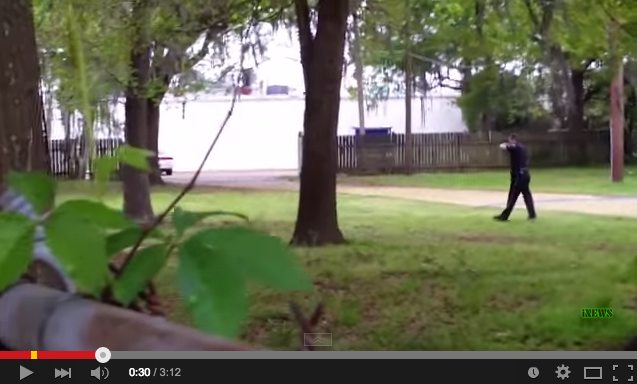 Slater ambling slowly to Scott's body, scratching the back of his neck along the way (screen grab #3)

The answer comes as he bends over and picks up something from where he had been standing (see screen grab #4, showing an image or an object dropped by the officer as he's firing, and screen grab #5 of him bending over to pick it up), and then ambles back to the body, where we see that another officer has by then arrived (see screen grab #6) and is inspecting it.