Ending Torture One Dick At a Time
CAUTION! To paraphrase Bill O'Reilly, you are now entering a no-censor zone that discusses obscene activity.

The Christmas movie from Sony Pictures I want to see is Seth Rogan and James Franco rectally feeding Dick Cheney at the climax of a movie sequel called The Enhanced Interview: Saving the Homeland One Dick At a Time.
Rogan and Franco have a good track record at getting money for movies that break taboos. Both are actor/directors not queasy about biological functions. Rogan co-directed the movie The Interview that caused an international incident by having an actor play the real Supreme Leader Kim Jong-un and, among all the dick jokes, exploding his head into biological goo; and Franco just directed an excellent film called Child Of God based on a Cormac McCarthy novel in which a mentally ill, homeless redneck is shown from behind cleaning his dirty ass crack with a stick and, later, having sex with a female corpse for whom he has purchased a red dress. Rectal feeding and/or re-hydration of an actor playing Dick Cheney would not be much of a hurdle for these brave cineastes.
While the North Korea movie may be an adolescent and politically irresponsible comedy, Child of God is a dark, small-budget gem. The kind of biological/psychological frankness the film engages in would have never been shown in theaters or on TV before the cell phone images of torture from Abu Ghraib in Iraq seeped into the American consciousness. Scenes of red-blooded American men and women torturing naked male Iraqi prisoners in one of Saddam Hussein's hideous dungeons shocked the American aesthetic. Sadistic behavior bordering on sodomy as US military policy? Hey, that doesn't comport with American values!
But, then again, I'm afraid it does.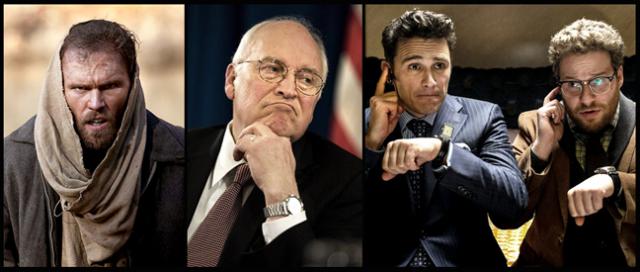 Scott Haze in Child of God; Dick Cheney; James Franco, left, and Seth Rogan up the creek in North Korea

For this advancement (or degradation) in cultural aesthetics -- at its worse, there's the film series brand Saw -- we have to thank the advent of cell phone cameras and government torture facilitators like Dick Cheney, who as a young man was soft, delicate and privileged enough to willfully avoid service in Vietnam, but as an old man with a bum ticker became powerful and ruthless enough to advocate torturing human beings in dungeons with hooks in the ceiling and drains in the floor to whoosh away all the hosed off blood, piss and shit from the previous eight-hour work shift. Cheney is even cold-blooded enough to say on Meet The Press that he doesn't care that innocent people were tortured under his program: "I have no problem as long as we achieve our objective." This is a man comfortable in a secure and luxurious mansion who has never gotten any torturous biological matter on him.