Poverty and Corruption Stalk South Africa's Presidential Election
Shenid Bhayroo was one of the thousand-plus journalists that traveled to South Africa in December 2013 to cover the death of iconic South African leader Nelson Mandela, the former political prisoner and first black president of the southern-most nation on the African continent.
Most of those journalists representing nations worldwide covering the memorial activities for Mandela, reporting on the 'mood' in that country, missed the mood Bhayroo saw among many South Africans.
Bhayroo saw a strong public dissatisfaction with the deep poverty rampant across South Africa, poverty many South Africans increasingly blame on failures of the ruling African National Congress (ANC), the organization Mandela once led. Many studies list income inequality in South Africa as highest in the world, citing such figures as the poorest ten percent averaging $427 in annual income compared to $80,800 for the richest ten percent.
"What I saw was a greater sense of criticism of the short-comings of the ruling party, even from staunch ANC supporters," Bhayroo said referencing rising objections including criticisms of corruption and nepotism among ANC officials, particularly South African President Jacob Zuma. "There's been little improvement in the lives of the working poor."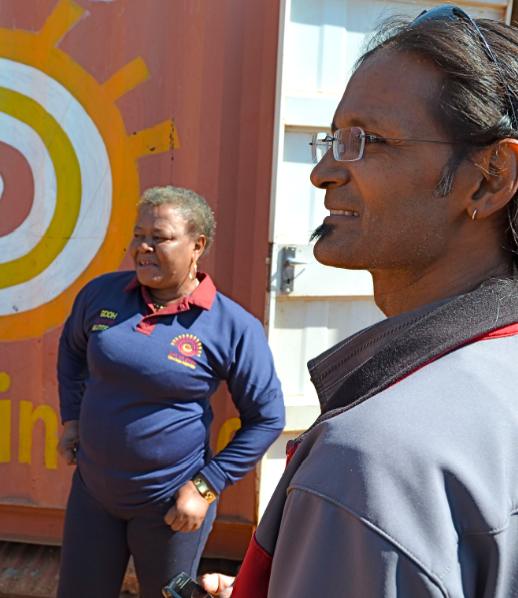 Shenid Bhayroo (r) and Rose Thamae at Thamae's anti-AIDS/anti-poverty organization in the impoverished township of Orange Farm outside Johannesburg. (WashingtonPhoto)
Bhayroo, a freelance videographer, grew up in South Africa under the racist apartheid system, living in a segregated area adjacent to Soweto, that township on the outskirts of Johannesburg where Mandela lived before his early 1960s arrest and 27-year imprisonment by South Africa's then white minority government. Dr. Bhayroo, who holds degrees from two American universities, is now a journalism professor living in the United States.
That pivotal mood change noticed by Bhayroo and others could bode ill for the ruling ANC in the May 2014 general elections. The ANC has ruled South Africa since the first post-apartheid election in 1994. Experts expect the ANC to retain its ruling position albeit with fewer seats in the National Assembly and provincial legislatures.
South Africa, very similar to the U.S., has more people eligible to vote than who actually vote.
'Educated' Mosi was a member of the ANC's military wing, living years outside of his homeland in exile. He suffered a gunshot wound in Angola during a 1980s battle against American CIA-funded rebels that were fighting in alliance with South Africa's apartheid government. Mosi is among the ANC supporters dissatisfied with the policies and practices of that party.
"Too many ANC leaders now drive Mercedes Benz cars. They don't do things for the poor," trade union member Mosi said, critical of top ANC officials for engaging in self-enrichment, a repugnant practice of elites worldwide.