Part II: Two Lawmen, Two Stories of a Boston Marathon Witness Killing: Who's Lying? (Maybe Both)
Florida State's Attorney takes a dive on FBI slaying probe
The Florida State's Attorney for the Orlando region, Jeffrey Ashton, today released his conclusion at the end of a 10-month investigation into the FBI slaying of Ibragim Todashev, a suspected witness in the Boston bombing case, saying that he will not be prosecuting the agent. Ashton ruled that the killing, in which the agent, at the end of a nearly 5-hour May 21 interrogation in Todashev's Orlando apartment, fired seven bullets into Todashev, killing him justifiably, after being attacked.
However the evidence submitted to Ashton's office by the FBI, the local coroner's office and his own investigators, on examination, actually leads to a different conclusion from the one of justifiable homicide which he, and the FBI in its own internal probe, have reached.
For one thing, the two accounts of what happened offered by the FBI agent who shot Todashev, and by a Massachusetts State Trooper who was also in the room at the time of the shooting, are significantly at odds.
Why should we care about the FBI slaying of a Russian Chechen immigrant during an investigation into a Boston murder case? Because, as I wrote recently in Counterpunch magazine, Todashev was actually also a close friend of Tamerlan Tsarnaev, the elder of the two brothers suspected of being the Boston Marathon bombers. The FBI had started investigating Todashev a day after the bombing when it learned he was a friend of the elder brother, but perhaps were more interested in preventing him from talking about what he knew than in learning what he had to say.
First a scene setter: According to all witnesses who came onto the scene after the shooting, Todashev's body ended up in a foyer leading to the front door from the apartment's living room, where the interrogation happened, his feet pointing to the front door, and his head and shoulders on the floor in the living room. He was found positioned face down by an investigator from the local Medical Examiner's office lying there on top of a red broomstick, a point made by every witness to the scene.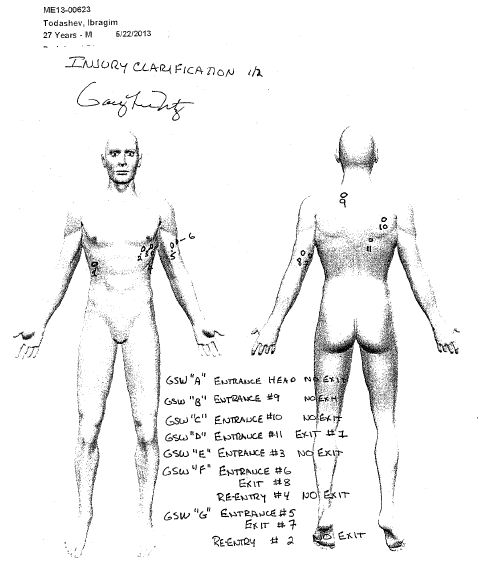 Diagram showing where an FBI agent's bullets hit slain interrogation subject Ibragim Todashev